Tottenham 0-1 Man City: The Premier League game with a hint of NFL about it
Last updated on .From the section Premier League385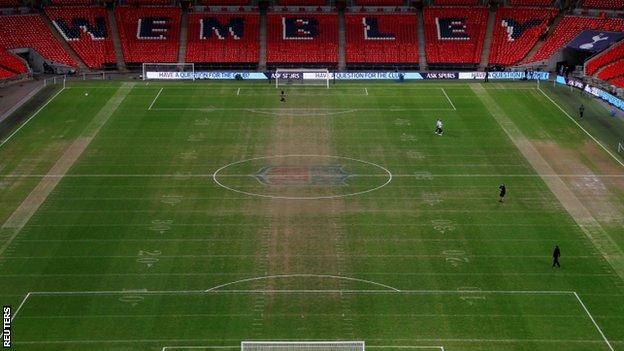 "Raheem Sterling with the pass to Riyad Mahrez and... touchdown!"
Monday was the night the Premier League met the NFL at Wembley.
When Tottenham hosted Manchester City just a day after the Philadelphia Eagles faced the Jacksonville Jaguars it was the pitch that had everyone talking.
It looked less like a football field and more like a gridiron with the markings, NFL logo and wear and tear of an American football match visible.
You could have been forgiven for thinking the Manchester City Mavericks were playing the Tottenham Titans.

And when Mahrez put City in front early in the first quarter, you did not disappoint with NFL-related puns on social media using #bbcfootball:
Mark Galloway: A 75-yard punt from Ederson and a fumble by Trippier sets up Sterling to reverse pass to Mahrez. TOUCHDOWN Citizens.
Frank: As a neutral I'm only tuning in to Wembley to see Destiny's Child with Beyonce at the interval.
FiGJaM1175: Does the "NFL" in the middle of the pitch at Wembley stand for "Not Finished Lane"?
Steven Kempton: First down Tottenham on their own 10.
And when Erik Lamela smashed a late chance to equalise over the bar from 12 yards, there was an inevitable response:
Matt Wilkinson: Erik Lamela is one day too late for that field goal!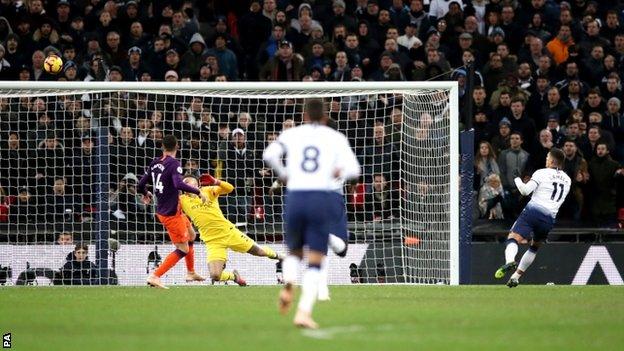 'The pitch was very difficult'
Match-winner Mahrez had no problems scoring his goal, but Spurs defender Toby Alderweireld was less than happy with the surface.
The Belgium international said: "I have to be honest, the pitch wasn't good. Both teams like to play out from the back and to play football in these circumstances, it was very difficult."
Tottenham manager Mauricio Pochettino appeared to blame a bobble on the surface for midfielder Lamela missing his clear-cut opportunity for a late equaliser.
"For both sides it was the same," said Pochettino. "Watching the action with Lamela, the ball bounced before he touched it. It was a little unlucky but for both sides - it was a difficult pitch to play."
Asked whether he thought the game should have gone ahead on that pitch, City boss Pep Guardiola said: "It's a question for the Premier League and Tottenham. Hopefully they can solve that problem."
'A non-league surface'
The ball bobbled across brown, worn patches on the field caused by the players, coaches, backroom staff, officials and cheerleaders who had been at Wembley a day earlier.
BBC Radio 5 live pundit and former Premier League striker Chris Sutton described it as a "non-league" surface.
Former Arsenal and England forward Ian Wright added: "It is ridiculous they are playing on this pitch. Manchester City should complain. I don't think they should have to play on this calibre of pitch."
Tottenham's new White Hart Lane stadium was supposed to open on 15 September but safety concerns led to a delay - and Spurs confirmed on Friday that they will now play their home games at Wembley until the end of the year at least.
Wembley had already agreed to host Sunday's NFL fixture.