Top-flight boss at 25 - thanks to a routine heart check
By Mark Sterling
BBC Sport NI
Last updated on .From the section Irish
"I haven't done a Google search, but I imagine I must be one of the youngest managers in Europe."
At 22 - an age when most footballers are thinking about playing for another decade or more - he had to retire because of a heart condition.
But four years later he is already a top-flight manager - at Warrenpoint Town in the Irish Premiership.
Julian Nagelsmann was thought to be Europe's youngest top-flight manager when, aged 28, he took over at Hoffenheim in 2016, but McDonnell was three years younger when was given the job on a temporary basis in February.
The former Celtic midfielder met his brief of keeping the County Down side in the top division last season and was made permanent manager at the end of the campaign.
The Dundalk native recognises the danger of players trying to take advantage of him being such a young manager, but is not fazed by the prospect.
"I just wouldn't put up with it," he said. "I'm the manager and the buck stops with me on every decision.
"I will be respectful and listen to the players' opinions, but ultimately I have to make the calls.
"There was a bedding-in period at the start, but I feel the players have accepted me."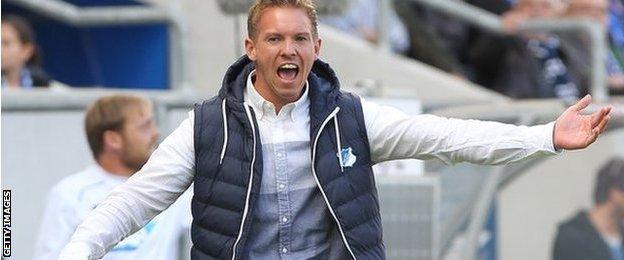 The red flag that signalled the end
McDonnell had two years as a player in Scotland with Celtic, then returned to play for Dundalk in the League of Ireland Premier Division before finishing his playing career at Warrenpoint, collecting a number of Republic of Ireland youth international caps along the way.
At the age of 22, McDonnell's playing career was at an end after a red flag was raised by a routine heart check before a Europa League game for Dundalk.
"I was lucky in that I was playing at a level of football which meant we received regular heart screening," he said.
"My players will not have been screened, for example, but it's something I think the authorities should look at introducing more at a grassroots level.
"I'd never had any problems previously, but I got a red flag after one of the tests and it later transpired I had a heart condition called cardiomyopathy.
"I got more and more tests and, at 22, it came to the moment I was advised to call it a day on my playing career."
'Football helped me out of a dark period'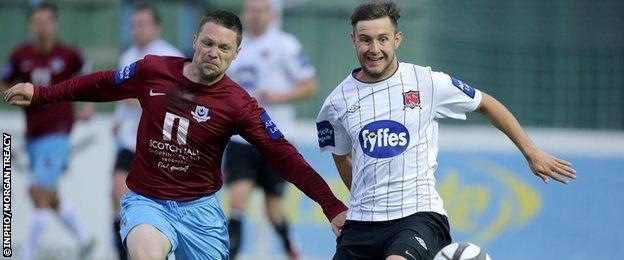 For a young footballer who had serious hopes of a career in the Scottish top flight just a few years earlier, the news came as a crushing blow.
McDonnell struggled to process it for a while, but was determined football would continue to be his livelihood.
"It was a dark period. I was down in the dumps for quite some time," he said.
"But I had good people around me and they picked me up. I had a decision to make about whether or not I stayed in the game, so I jumped on the coaching ladder and it has paid off.
"Management has been a very different type of challenge, but I still see myself as a coach. I'm very hands-on, have a lot of ideas, and feel that I'm the best person to get those ideas across to the players."
'Exciting at times, but also disheartening'
For a club that only entered senior football in 2013, extending their stay in the Irish Premiership is Warrenpoint's main objective.
They responded to a bad start to this season by going on a five-game unbeaten run and are currently ninth, despite two consecutive defeats.
McDonnell has had to learn quickly on the job.
"It's been very exciting at times and disheartening at other times, but thoroughly enjoyable overall," he said.
"The modern-day player can be very temperamental. You have to get a good understanding of how to work with them, both individually and collectively.
"I think they are going to judge me on my knowledge of the game, my manner, and how I am with them on an individual basis.
"As a player I liked a manager just telling me how it was and leaving no grey areas. If something isn't right or someone has to be dropped, I think players will respect you when you have an honest conversation with them. That's what I try to do."
'Who's that kid?'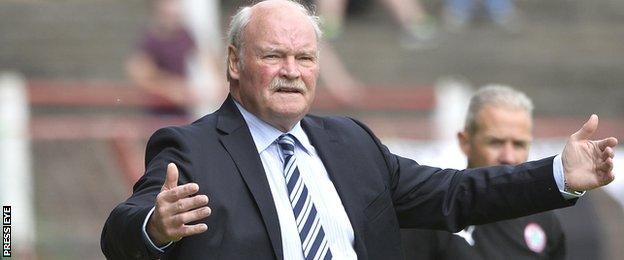 As well as the challenge of getting his players to accept having a manager in his mid-20s, McDonnell is aware eyebrows will also be raised by opposition managers and players.
In the same month he became Warrenpoint boss, Glentoran appointed a manager - Ronnie McFall - who was almost 50 years his senior.
"Obviously I know of Ronnie and what he's done in the game," McDonnell said.
"It's strange as I do sometimes laugh to myself and wonder are other managers thinking, 'who's that kid in the opposition dug-out?'
"But age is only a number - it doesn't matter if you're 26 or 36, I will be judged on the job I do. I realise I've a lot to learn in the game but I'm grabbing the opportunity with both hands."
The Eddie Howe of the Irish League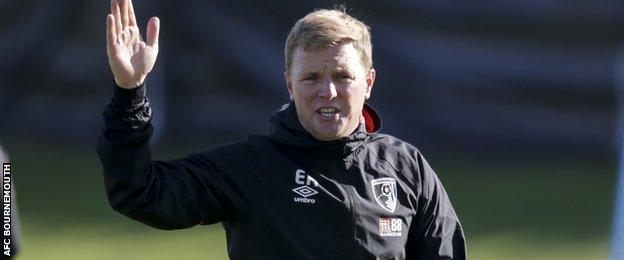 He may be only nine months into his first managerial role, but McDonnell is confident in his ability - and clear about his ambitions.
"I'm not just in it for a bit of fun," he said.
"I would love to work in football management full-time, whether it is here, down south or in England or Scotland."
He looks to Eddie Howe, the Bournemouth manager who got the south coast club promoted after first taking over as manager at 31, for inspiration.
"What he has done has been incredible, taking a club with a small fanbase and relatively small money up through the divisions," McDonnell added.
"He has them playing great football and they're a joy to watch, but most importantly they are surviving in the Premier League every year."
That's what Warrenpoint need to do. And, while he may or may not be Europe's youngest top-flight manager, McDonnell is doing a fine job so far in helping them achieve that goal.