Santiago Solari: Real Madrid need character in first game as boss
Last updated on .From the section European Football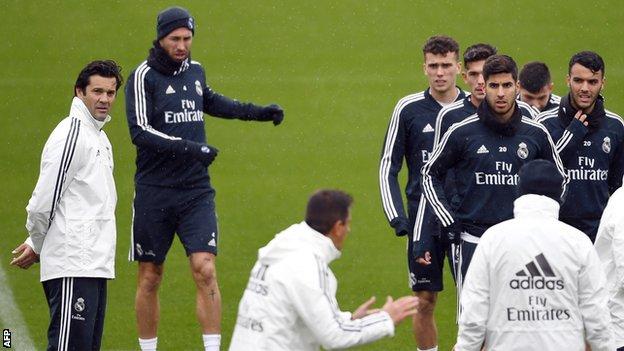 Interim coach Santiago Solari has said Real Madrid need to show character in his first game in charge.
He has been "provisionally replaced" by B-team coach Solari and the Argentine, 42, takes Real to third-tier Melilla in the Copa del Rey on Wednesday.
"The players are a bit hurt but really want to turn things around," the ex-Real winger said at a news conference.
"This is a team of champions, of warriors, players who have given a lot of things to this club.
"Certain moments are more difficult and that's when you see the character of these players."
Could he land the job permanently?
Spanish rules stipulate that caretaker managers can only be in charge for two weeks, after which a permanent replacement must be named.
That would give Solari four games in charge but asked if it would be a longer-term appointment, he replied: "I'm going to be positive and do everything I can.
"It's a great opportunity, it's a great club, and I don't just say that now as coach of the first team. I've been at this club doing other things - I've played, I've sweated in the shirt for this club.
"Madrid is bigger than all of us but it touches us all with its greatness and I want to be a part of it."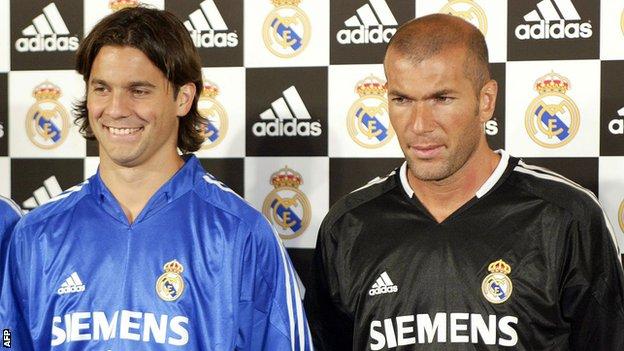 'Nobody compares to Zizou'
Lopetegui succeeded former France midfielder Zinedine Zidane, who left Real in May after helping the club win the Champions League three years in a row.
Zidane, 46, was a Real team-mate of Solari between 2001 and 2005, with both having now been promoted from B-team coach to take charge of the first team.
"Zinedine Zidane is one of the greatest things we've had at the club," Solari added.
"All of the adjectives you can think of are not enough to describe Zizou. He is very calm, he's a great coach and nobody can be compared to him."