Halloween: We asked you to create Frankenstein's footballer
Last updated on .From the section Football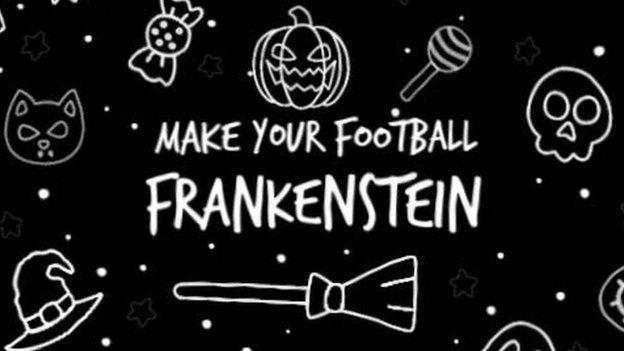 Throughout history we've been terrified (if not slightly amused) by various movie incarnations of 'Frankenstein's monster'.
We asked the public to decide via polls on our Instagram Story whose vision, strength, power, speed and mind would form the various components of a supreme football monster...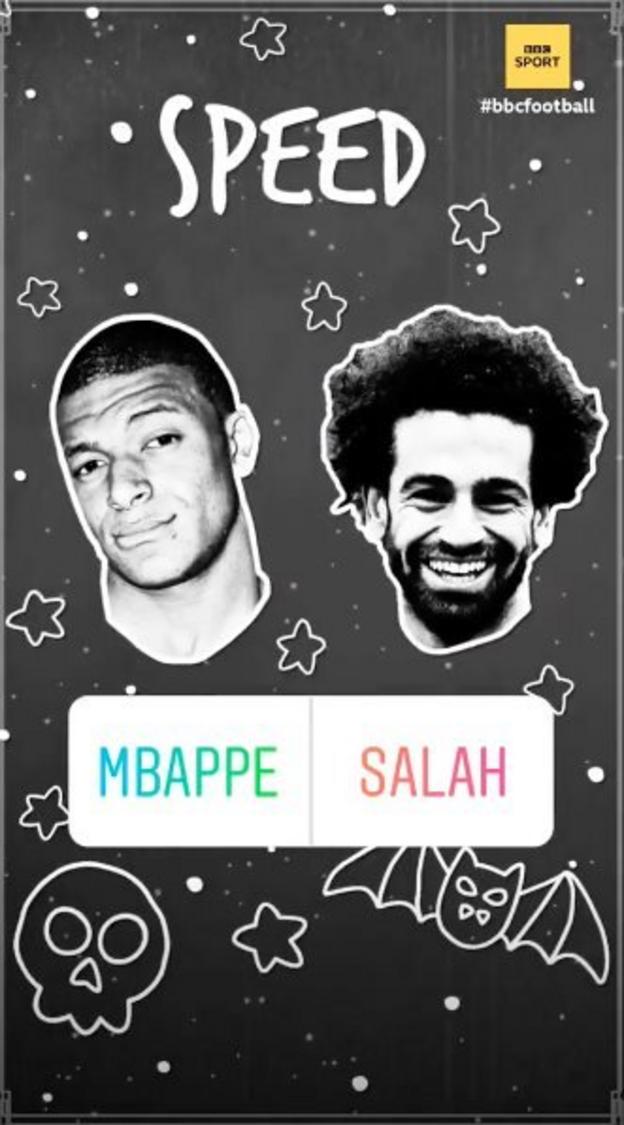 Plus it was a good excuse for us to play around on some photo-editing software...
Vision - Kevin de Bruyne v Lionel Messi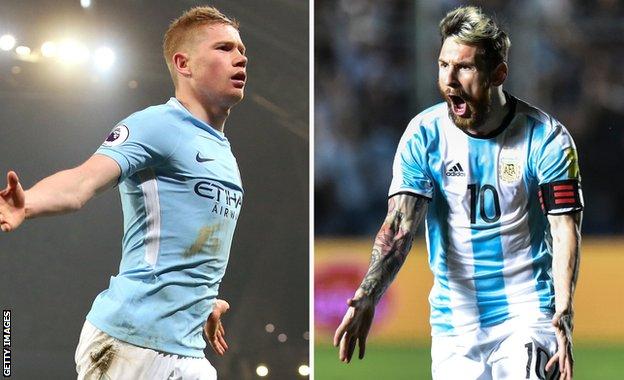 Manchester City's two-time player of the year says it's "impossible to compare" him to Barcelona playmaker Lionel Messi as he plays in a "totally different position".
Sorry Kev, that's not going to stop us. Besides, we aren't looking at scoring records here. This round was all about "vision", and both these guys love an assist.
KDB has 44 in 104 Premier League games for City, while Messi has five in just eight starts in La Liga this season alone.
So whose laser vision would you want on your ultimate football mutant?
YOU PICKED: Lionel Messi
Strength - Virgil van Dijk v Adebayo Akinfenwa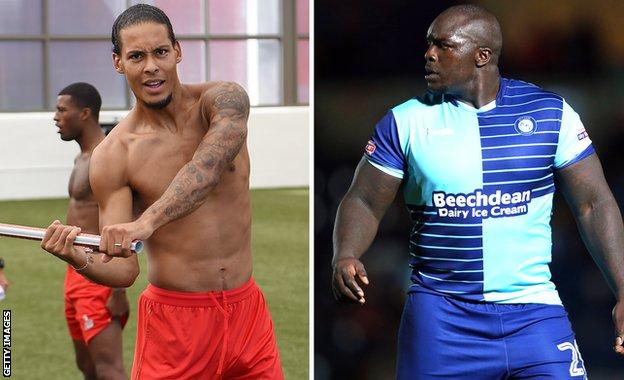 Virgil van Dijk has turned Liverpool into a defensive powerhouse, helping them keep 14 clean sheets in 25 Premier League games since he joined in January 2018.
Wycombe Wanderers' Adebayo Akinfenwa, meanwhile, is just a bona fide unit. For years the strongest player on Fifa, he's posted videos on his YouTube channel of him bench-pressing 190kg.
Let's face it, you wouldn't want to come face to face with either in an arm wrestle.
But whose strength would you count on to make this monster?
YOU PICKED: Adebayo Akinfenwa
Power - Sergio Aguero v Xherdan Shaqiri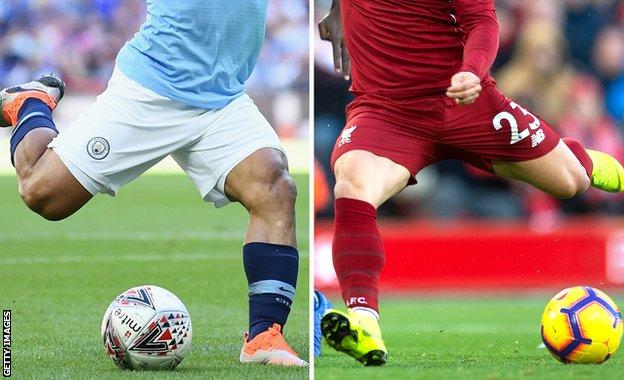 Both possess thighs that could crush a bowling ball, but who would you want to provide the power for this creation?
Aguero's powerful lower body has helped him bag 207 goals in 299 Manchester City appearances, while Shaqiri earned the nickname 'The Powercube' while at Bayern Munich because of his explosive pace and venomous shot.
Wouldn't it be great if we could have the right thigh of Aguero and the left thigh of Shaqiri? Sadly, we asked you to pick just one.
YOU PICKED: Sergio Aguero
Speed - Kylian Mbappe v Mohamed Salah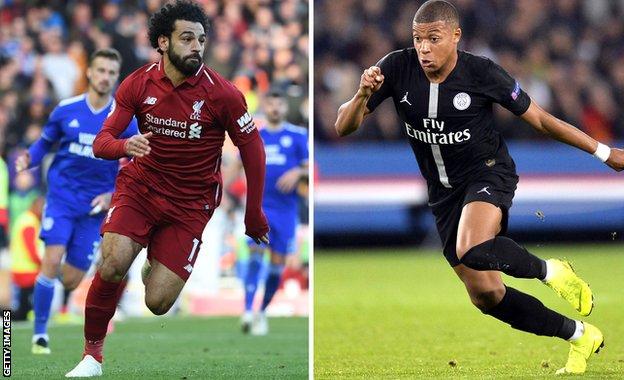 Films may have depicted 'the Monster' as a zombie-like creature walking with an awkward, stiff-legged gait, but Mary Shelley's original description says his movement was "much more flexible than a human".
Either way, our hybrid footballer is going to need some serious speed to frighten defenders on the pitch. That's why we gave our Instagram followers the choice of these two blink-and-you'll-miss-them superstars.
Kylian Mbappe embarrassed Argentina's defence (among others) at the 2018 World Cup with an incredible run from deep inside his own half, whizzing across half the field at almost 33 kilometres per hour.
Mohamed Salah's pace has become one of Liverpool biggest weapons, helping him find the net 51 times in 66 games for the Reds.
Which speed demon would you incorporate into the football mutant?
YOU PICKED: Kylian Mbappe
The Evil Mind - Diego Costa v Sergio Ramos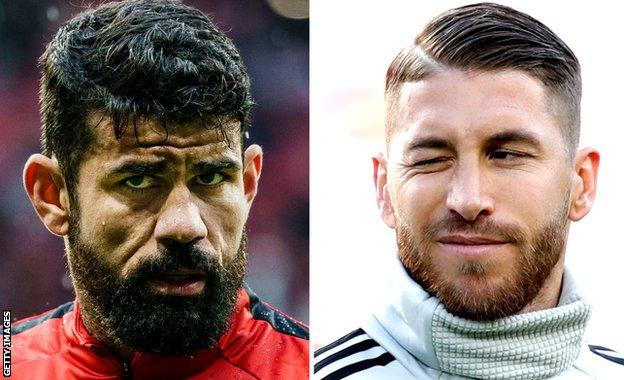 Of course, a monster is nothing without its mind and ours needs a sharp one.
Bearing in mind this is just a bit of fun, we gave people the option of two of football's most notorious 'evil geniuses' - Diego Costa and Sergio Ramos.
Two men known as much for their cunning mind games, and taking joy in upsetting their opponents, as they are for their skills on the pitch
Costa was never far away from drama during his time at Chelsea - he was banned for no fewer than 15 games in three years at Stamford Bridge.
Ramos is also known for terrorising opponents across Europe with his devilish deeds... mentioning no names *cough* Mohamed Salah *cough*.
He has been sent off 24 times in his career and is approaching 300 cards overall. Extraordinary stuff.
YOU PICKED: Sergio Ramos
So there we are, and finally emerging from the BBC Football laboratory, as lightning strikes and dramatic organ music plays... our Frankenstein Footballer...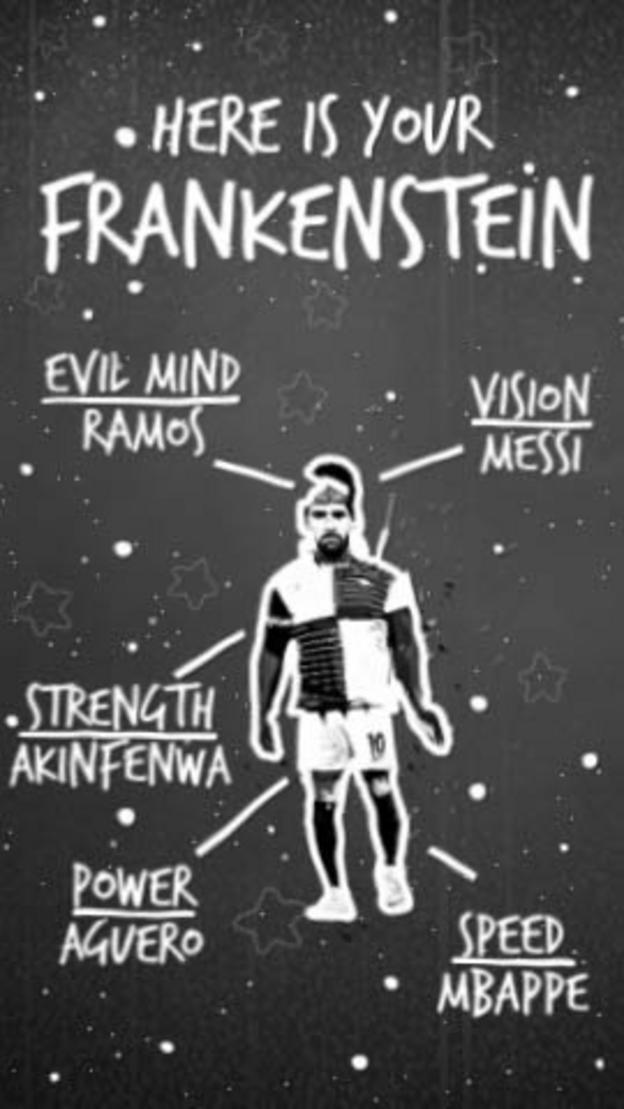 The vision of Lionel Messi, the pace of Kylian Mbappe, the power of Sergio Aguero, and the strength of Adebayo Akinfenwa - all orchestrated by the evil genius of Sergio Ramos. That's some player.
For more great football content, follow @bbcfootball on Instagram.