Hibernian's Neil Lennon criticises 'criminal & ridiculous' fixture schedule

By Brian McLauchlin
BBC Scotland
Last updated on .From the section Hibernian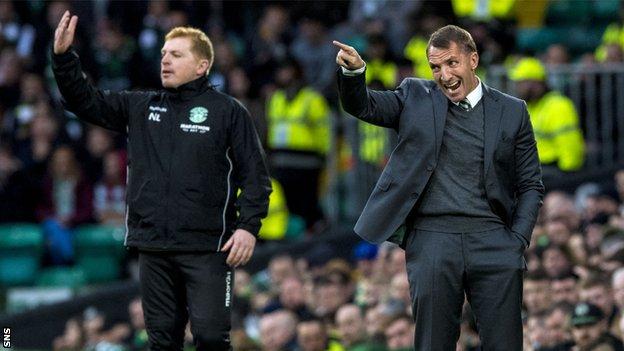 Neil Lennon has described Hibernian's fixture schedule as "criminal" and "ridiculous" ahead of Wednesday's Edinburgh derby.
The Easter Road side go to Tynecastle on Wednesday in what will be only their third game this month compared to Hearts' fifth.
An international break and League Cup fixtures have been reasons behind the prolonged break for Lennon's side.
"It's just ridiculous," the Hibs head coach said.
"It sounds a bit rich coming from the manager complaining about a lack of football, but this is only our second game since 5 October, so the only thing that worries me is rigor mortis setting into the squad.
"In December, it's all concentrated into eight games in four weeks, it's just absolutely criminal.
"This is a block of five games where it's our fourth one away in five games. I've never come across that one before, so it's difficult, but we'll adapt.
"It needs looking at, it's just not right. As a manager, it's almost impossible to prepare for anything like that.
"I'm sure Ian Blair [SPFL secretary] reads the papers and sees the TV, so he can give me a call any time he likes."
Lennon insists there are too many breaks in the Scottish football calendar that make it even harder for teams to gather any momentum.
"How do you get any continuity going? How do you get any fluency going?" he added.
"Some managers are dying for the international break because of injuries or suspensions, I get that, I've had that myself, but this will be the third one.
"Come December, I'll be screaming for a break, which we're not going to get. We've got three home games in a week as well, so we expect our fans to come a couple of weeks before Christmas and put their hands in their pockets.
"It is very difficult to prepare for something like that."