Brexit: What effect could leaving the European Union have on football transfers?
Last updated on .From the section Football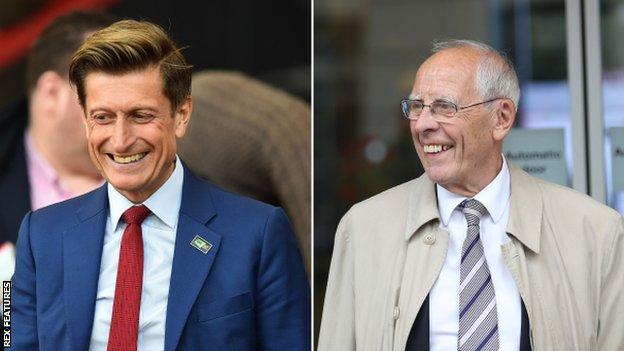 Britain is set to leave the European Union before the current football season ends.
Could it mean British clubs are less able to attract top talent? What will it mean for transfer fees? And could it be an opportunity to develop more home-grown players?
Will it be harder to sign players?
Here's the current situation:
Footballers from countries in the European Union and European Economic Area (EEA) are allowed to play professionally in Britain as part of freedom of movement rules, while those from outside need work permits.
To get a work permit, a player has to get a Governing Body Endorsement (GBE) from the Football Association (FA) and must meet strict criteria based on what proportion of their national team's competitive games they have played in the last two years, with higher percentages required for lower-ranked nations.
After Brexit, the regulations that currently apply to those outside the EEA could apply to all players - such criteria would have seen the likes of N'Golo Kante and Riyad Mahrez, who won the Premier League with Leicester City in 2015-16, prevented from playing in England.
Stoke City chairman Peter Coates says that criteria "would be very difficult to meet for a lot of clubs" and Brexit could therefore "damage" the Premier League as teams struggle to attract the same "breadth of top talent."
The Premier League is seeking to avoid tough regulations on signing European players after Brexit.
"We're all keen to get something that works pretty much as the way it does now but we can't be confident about it," said Coates, whose family donated £250,000 to the Remain campaign before the referendum.
Crystal Palace chairman Steve Parish believes the current regulations mean the EU "acts as a blocking area to talent from the rest of the world".
"We've turned to the EU for most of our players and the bar is set very high for work permits outside of the EU," he said.
"We also spend an enormous amount more on transfers with the European leagues than they spend generally and certainly with us."
Will it widen the gap to the big clubs?
Again, here's the current situation:
If a player does not qualify for a work permit because of their international record, their prospective club can apply to the FA's Exceptions Panel, which operates a points-based system.

Points are awarded for a higher transfer fee or wage and if the player has represented a club in competitions like the Champions League.

So Alexandre Lacazette's £46.5m move from Lyon to Arsenal last year would likely have been fine despite the striker only having 11 caps for France at the time.
But with the system linked to transfer fees, could this, as Burnley chairman Mike Garlick has suggested, "make the widening inequality gap in the Premier League even worse"?
"The big clubs might be less affected because they tend to buy at the top end, the very established best players and they meet the criteria, but we don't know," said Coates, whose side were relegated from the Premier League after 10 years last season.
But Parish believes it will widen the available talent pool and allow smaller clubs like Palace the chance to sign young stars from more countries.
"For us to sign a 19-year-old hot prospect from Peru is almost impossible so we are driven towards the EU market," he said.
"If we had access to global talent it would reduce our costs of acquisition of talent and improve the quality of talent we can get."
An end to signing under-18s?
Where we are at now:
Clubs in countries that are members of the European Union and European Economic Area are currently exempt from a Fifa rule that bans the transfer of players under 18 years old.
If the UK does not remain in the EEA after leaving the EU then British clubs could lose this exemption, under which the likes of Hector Bellerin, Nathan Ake and Andreas Christensen have been signed in recent years.
"If you have a talented young player that you want then you could find it very difficult to get them," said Coates.
Parish believes losing this exemption could address the issue of academies signing "a lot of kids" from Europe, potentially at the expense of British players.
"In a post-Brexit world we could say what the quotas are for British footballers," he said.
"We can go back to the Fifa rule and that'll give much bigger opportunities to home-grown footballers and access to the national teams."
More playing time for young British players?
The position at the moment:
Premier League clubs must currently have eight 'home-grown' players in their 25-man squads.

However, this does not necessarily mean British - Spain's Cesc Fabregas qualifies because he was bought by Arsenal at a young enough age to have three seasons at the club before he turned 21.
Coates says he understands the argument that Brexit could mean more opportunities for young British players but adds it is "up to us as football clubs to develop our talent".
England's senior team reached the World Cup semi-finals this year while the Under-20 and U17 sides are world champions - a run of success Coates says is evidence of how higher standards of coaching in academies has "raised the standard [of English players] at every level."
"There is reason to be optimistic - we've made good strides and we should concentrate on that, keep doing that and the young talent will keep coming through and thrive," he said.
Parish says he is hoping for a "win-win outcome" of a strong Premier League that has "good access for English and British players" together with "access to the best players" from around the world.
He added: "We can improve the international appeal of the league - which is almost already unassailable - and then with the other eight players in the squad, whatever we decided to do, we can really look at those as a way of nurturing British talent."
Will transfer fees and wages go up or down?
Coates claims Brexit uncertainty had already made it harder to sign players because the decreased value of the pound meant clubs had to spend more money in the transfer window.
Tottenham boss Mauricio Pochettino similarly claimed Brexit was part of the reason his side did not sign any players this summer.
He added that the decreasing value of the pound also meant that comparatively "players are getting less money" so clubs have to pay them more in wages.
However, Parish believes that if signing non-EU players becomes easier after Brexit, increased competition will reduce transfer fees and wages.
"When we open up to talent from all over the world, we'll gain access to thousands of more players and that will drive down the cost of the acquisition of talent and could drive down wages," he said.
Yet Parish agreed that the uncertainty over an exit deal is the thing that "most worries" club chairmen and that the worst outcome would be the UK ending up "trapped somewhere in between" - left with the current rules on non-EU signings applying to all players and with no way to make new rules.