Emma Clarke: FA backs call to honour first British black female player
By Saj Chowdhury
BBC Sport
Last updated on .From the section Women's Football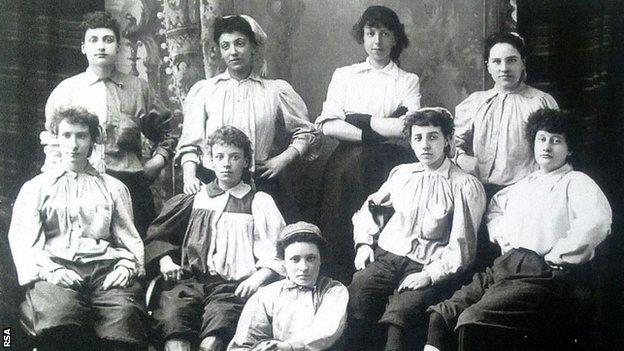 The Football Association has backed a call to honour Emma Clarke, Britain's first black female footballer.
The Bootle-born player first featured for the British Ladies' team in 1895 and went on to appear at stadiums such as St James' Park and Portman Road.
Now Anna Kessel, sports writer and co-founder of Women in Football, wants Clarke to receive wider recognition: "A blue plaque on her childhood home would be brilliant.
"It would also be lovely to see the ground on which she made her debut recognised. I know English Heritage have rules about where a plaque can be attached - on an existing original building - however there are no existing buildings left on the pitch in north London where Clarke played. Maybe English Heritage could rethink their criteria.
"There could also be a statue of Clarke on Wembley Way. When female fans go to watch football at Wembley, they see the statue of England men's World Cup-winning captain Bobby Moore, which is great - but wouldn't it also be great to see one of the incredible women players we've had in this country?
"At the moment there are only two statues of sportswomen in the UK - that's 1% of the total."
The FA has been contacted by Women in Football regarding a statue of Clarke either on Wembley Way or St George's Park, the national football centre.
The story of Clarke was discovered only last year by Stuart Gibbs, who was researching the history of women's football for an exhibition. From the subsequent information gathered, parts of her story were dramatised in a production called Offside, which toured the UK in 2017.
Who was Emma Clarke?
Clarke was born in Bootle, Merseyside in 1875.
She lived with 13 other siblings in a terraced house along with her parents - mother Wilhelmina Clarke, believed to be of black Dutch heritage, and father William Clarke, who was a bargeman.
It was when Clarke was aged six or seven that the first official women's international football match took place in Scotland in May 1881. Later that year a series of matches took place in Liverpool, which is likely to have influenced her.
Her career path saw her transform from a confectioners' assistant, at the age of 15, to playing for the British Ladies' team at 20.
Following winter training under the guidance of former Arsenal player Bill Julian during the 1894-95 season, Clarke made her debut on 23 March, 1895 in Crouch End, north London.
More than 10,000 people paid to watch the match between the teams representing north and south of the country.
The Manchester Guardian reported at the time: "Their costumes came in for a good deal of attention... one or two added short skirts over their knicker-bockers. When the novelty has worn off, I do not think women's football will attract the crowds."
The Sportsman newspaper wrote: "I don't think the lady footballer is to be snuffed out by a number of leading articles written by old men out of sympathy both with football as a game and the aspirations of the young new women. If the lady footballer dies, she will die hard."
Clarke represented the British team until around 1903, and also played for Mrs Graham's XI for their tour of Scotland in 1896.
There are few details of what happened to the footballer after 1903.
Her life was commemorated at an event held by the Royal Society for the encouragement of Arts, Manufactures and Commerce (RSA) on Tuesday, which was co-curated by leadership consultant and activist Michelle Moore.