Florent Cuvelier: Morecambe midfielder back in game after spell delivering pizzas
Last updated on .From the section Morecambe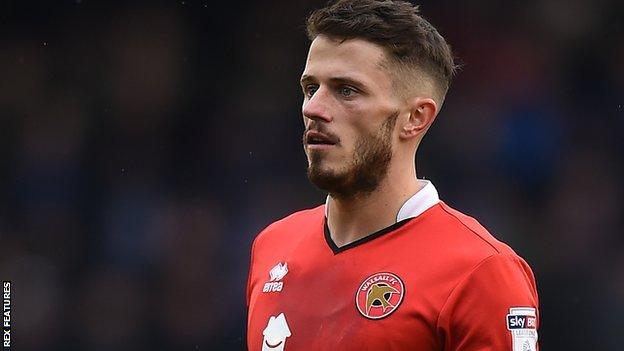 "I feel like a lion on the hunt for meat but I am on the hunt for football."
It's safe to say that new Morecambe midfielder Florent Cuvelier endured a difficult start to the season after being released by Walsall in the summer.
At the age of 26 the former Belgium Under-21 international found himself out of the game and delivering pizzas to pay the bills.
But on Friday, the League Two Shrimps gave him a short-term deal until 25 January to end a "difficult" couple of months for him and his family.
"It put things in perspective when you go from playing football professionally for 10 years and then you find yourself at the beginning of the season without a club or any income but the bills and the mortgage are still coming through," he told BBC Lancashire.
"You need to find a way of getting some money in and for me it was delivering pizzas."
He added: "The last couple of months have been very difficult mentally for me and my wife.
"I've spent all these weekends at home sat on my sofa thinking that if anyone gives me an opportunity they will not regret it. I want to get my career going again."
The former Stoke and Sheffield United man said that he went running at 5:30 am and would go to the gym "two or three times a day" to keep fit.
The Belgian was an unused sub for the League Two strugglers in Saturday's draw with Newport but feels like he can have a big impact for Jim Bentley's men.
"Every day in training is an opportunity to get sharper, stronger, fitter and to impress," he said.
"For me watching the game on Saturday put stars in my eyes and even more fight in my belly to get in the team and get myself going again."