Benin players and ex-FA boss given prison sentences for age cheating
By Mohamed Fajah Barrie
BBC Sport, Sierra Leone
Last updated on .From the section African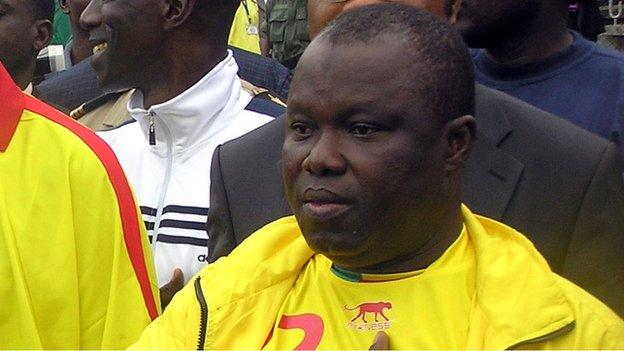 Ten Benin youth players and former football federation president Anjorin Moucharafou have been handed prison sentences for age cheating.
A Cotonou court found them guilty of lying about their ages, which saw them failing MRI tests in Niger.
September's failed tests saw Benin disqualified from last month's regional qualifying tournament in Niger for the 2019 Under-17 Africa Cup of Nations.
The players were given six-month prison sentences with five months suspended.
Because the players have been held in prison since their return from Niamey in September, they do not face more time behind bars.
Moucharafou, who was president of the Benin Football Federation (FBF) until August, was also found guilty because of his administrative role that led to the failed MRI tests.
He was handed a 12-month prison sentence, including 10 months suspended. He has also served some of his time after being arrested earlier.
The national under-17 team coach Lafiou Yessoufof and two other officials received similar sentences for their roles in cheating.
The new president of the FBF, Mathurin de Chacus, declared in August when he was elected that he wanted to "put an end to corruption, improvisation and amateurism" in the country's football.
He had filed a complaint about the overage players scandal and promised "very heavy" sanctions.