Former Ghana FA boss Kwesi Nyantakyi to appeal against life ban
Last updated on .From the section African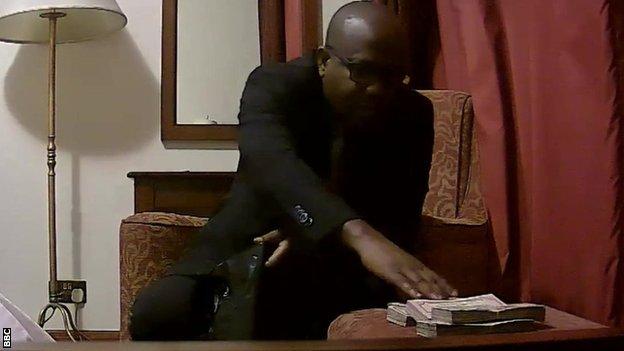 Former Ghana Football Association president Kwesi Nyantakyi will appeal against his life ban from the sport at the Court of Arbitration for Sport.
He was filmed taking $65,000 (£48,000) from an undercover reporter.
"My legal advisors are under my instructions to urgently appeal the decision as I think it was unfair, harsh and unwarranted," he said.
"I wish to express my shock and deep sadness after receiving the decision from the Fifa ethics adjudicatory committee on Tuesday.
"I will use all the legal channels available to seek redress and establish the facts I presented to the committee."
The film of him taking $65,000 was captured by journalist Anas Aremeyaw Anas and BBC Africa's investigations unit, Africa Eye, received exclusive access to the footage.
"Even though I have already resigned from all my football positions, it is important I establish the facts with the sole aim of clearing my name," Nyantakyi added in a statement.
"I wish to express my sincere gratitude to the people of Ghana, Africa and indeed across the globe for the overwhelming support and outpouring of sympathy."
Since the investigation, Nyantakyi has resigned as the first vice-president of the Confederation of African Football and from his seat on the Fifa Council.
Nyantakyi has claimed the footage was doctored to falsely incriminate him.
The adjudicatory chamber of Fifa's ethics committee said the ban for life applied to "all football-related activities at both national and international level".