Steve Mounie suggests the Pythons as a new nickname for Benin
By Stanley Kwenda
BBC Sport
Last updated on .From the section African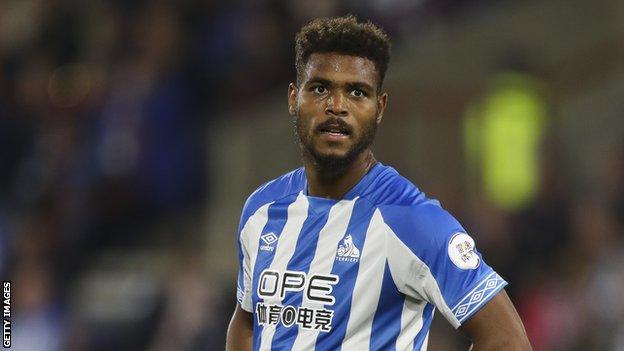 Benin striker, Steve Mounie, supports his country's plan to change the national football team's nickname from The Squirrels.
The Benin Football Federation (FBF) is in the process of changing the nickname of the national team from The Squirrels to something evocative and respectable.
The Huddersfield player has even offered his own suggestion of the Pythons.
"The python, the snake is like a symbol in Benin," he explained to BBC Sport.
"There's a temple of python in Benin, there's a big culture around the python. They adore the python in Benin."
He added that he would be happy with other suggestions as well.
"It's a good animal but they can pick any name but me I don't mind. That will not change anything for me on the pitch," he insisted.
He added that the python will also be a good name because his country is developing some bite on the pitch.
Benin beat a star-studded Algeria side in its last game in the Africa Cup of Nations qualifiers to leave them second in Group D.
"We beat Algeria and off course we are dangerous, we have got some good players," he added.
"Everyone is playing in Europe now so I feel like we have a very good team and hopefully we will qualify for the next Africa Nations Cup."
Les Ecureuils translates into English as The Squirrels and was coined in the 1960's - apparently to reflect a small nation aiming to climb high.
But the country's football governing body feels that it is time for a change in order to reflect the team's ambitions.
It is not the first time Benin will be looking to change the team's nickname as a similar move was made in 2008, but proved abortive.
Benin have never qualified for the Fifa World Cup and have only played in three African Cup of Nations in 2004, 2008 and 2010.
Their next Nations Cup qualifier is against The Gambia on 17 November.