Tottenham Hotspur: Why Spurs must solve new stadium issues
Last updated on .From the section Tottenham109
Tottenham manager Mauricio Pochettino said he was experiencing his "worst feeling" since arriving in north London in 2014 - and that was before his side lost 1-0 to Manchester City.
The result means Tottenham are fifth in the table, even though, up to Monday, it had been their best start to a Premier League campaign.
Pochettino's unease is being caused by the off-field issues created by what has turned into a stressful stadium move.
It has become apparent this includes a £237m extension to a loan agreement that has now risen to £637m.
Once completed, the 62,062-seater Tottenham Hotspur Stadium will be one of the best in the world, according to those behind the construction project.
However, with no date for it being opened confirmed, costs rising and their manager expressing discomfort, how are Spurs going to be affected over the next few weeks and months?
The big issue
After spending last season at Wembley, Tottenham had hoped to be in their new stadium by the start of the current campaign. During the summer, this was changed to the 15 September meeting with Liverpool.
Just over a month before that game, Tottenham said that because of "issues with the critical safety systems" their move had been delayed. On 26 October, they confirmed all remaining games in 2018 would be played at Wembley, with chairman Daniel Levy saying it was still not possible to "confirm an exact opening date and fixture".
Ominously, further down a lengthy statement, Tottenham said: "Trading for the current year will be impacted by the additional costs of Wembley and the delay to the opening of the new stadium."
What is the financial fallout?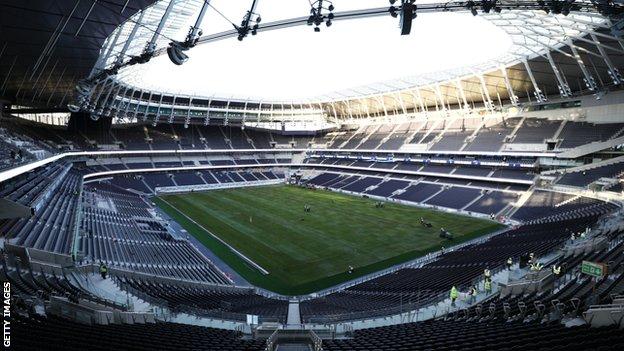 Up to and including their 2016-17 accounts that were published on 9 April, Tottenham had spent £315m on their new stadium.
Previous estimates that the overall cost would be around £750m have now risen, although the club have not confirmed by exactly how much.
They have also not said what interest rate they are paying on the sums they are borrowing, although it is felt, specifically in relation to the £237m, it might be quite high.
As the 'development facility' expires in 2022, Tottenham want to convert some of the loan into bonds (as Manchester United did in 2010, when they raised £500m).
It's a way of raising money by offering to pay it back to investors on a specific date and making periodic interest payments, usually at lower interest rates than banks command.
James Dow, a football finance expert at Dow, Schofield, Watts, told the BBC: "The positive is that it reduces bank borrowing, the bonds don't have the same amount of restrictions as bank debt and, because the interest rates on the extra money they are borrowing are likely to be quite high, reduces the amount owed.
"The negative is that they are quite difficult to raise. With Manchester United, even if the club had been run into the ground, the likelihood was someone would have stepped in to buy it. Clearly, Tottenham are a well established Premier League club but they do not have the same global appeal as Manchester United."
What are Tottenham doing?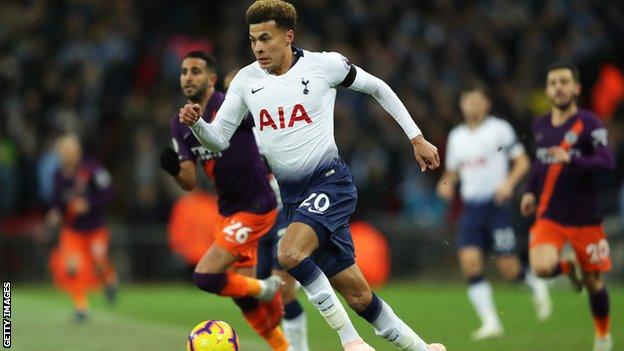 It is understood Tottenham want to avoid getting into arguments with their contractors over the frustrating delays and are concentrating all their energies on getting their project completed.
Workers on the project have been incentivised to work additional hours and senior club employees have privately admitted their lives have been put on hold as they wrestle with the problems.
For, with costs rising, there is a fear, even with a six-year contract extension for England forward Dele Alli announced this week, Tottenham, who did not sign a player in the summer, are losing ground on their rivals.
Before the City game, Pochettino said: "The club is not focused completely in winning titles or winning games. We spend a lot of energy in many things. Today we need to fix other problems that don't help the team or the club to be focused only on winning titles."
That said, Levy recently insisted the new stadium will not directly affect the club's transfer policy and said the club had a "certain amount earmarked" to spend on players.
Are there other problems too?
So far this season, Tottenham's average home attendance for matches played at Wembley is 64,149. In 2016-17, for Premier League and Champions League games only, it was 68,296.
The crowd for the City defeat was 56,854. Only four Premier League crowds were lower than that at Wembley last season.
Tottenham's attendance of 43,268 for their previous home game against Cardiff was their lowest in the league since they moved to Wembley. This figure was down to restrictions placed on the number of events that can be held at full capacity at Wembley but, evidently, results in a reduction in matchday income.
Of major concern is Champions League qualification.
Spurs have qualified for the tournament three seasons in a row. Only Manchester City are on a longer run. They earned £45.7m from the competition last season, when they reached the last 16. They face a difficult task reaching the knockout phase this term after collecting one point from their opening three games.
Should they fail to finish in the top four this season, the reduction in income would compound the rising stadium costs.
One factor to help mitigate that, though, will be the two NFL games the stadium will host in 2019.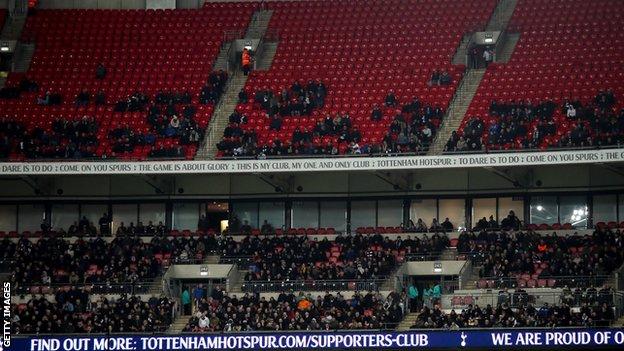 What happens if a top-four finish is beyond them this season?
The big fear is that Pochettino will grow tired of spending restrictions and look at alternative job offers.
Manchester United have been linked with a move for the Argentine and reports have also said Pochettino is high on Real Madrid's list of candidates to become their next coach.
Both of these clubs operate on a financial level much higher than Tottenham.
Spurs' wage bill of £127m in 2015-16 was less than half of United's £264m.
Alli, England captain Harry Kane and Pochettino himself have signed lucrative new contracts since then but Tottenham are still way behind United and Real.
If Pochettino did decide to leave, how many of his top players would follow? And would that trigger a return to the two decades between 1996 and 2015, when Tottenham finished in the top four only twice and their average finishing spot was eighth?