Arsene Wenger: Former Arsenal boss will not manage in England again
Last updated on .From the section Premier League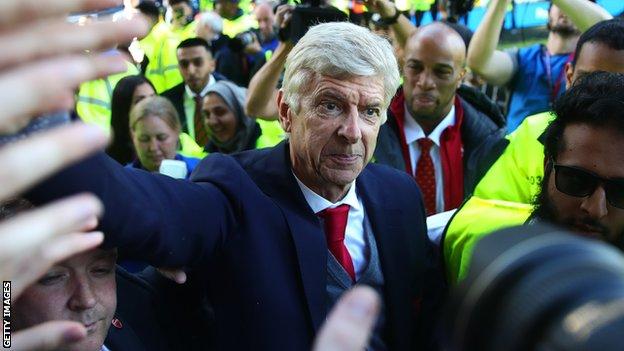 Former Arsenal manager Arsene Wenger says he will return to management "in the New Year" - but not in England.
Wenger, 69, spent 22 years at Arsenal before leaving at the end of last season, guiding the Gunners to sixth in the Premier League.
When asked if he would return to manage another English club, he replied "certainly not".
The Frenchman said: "I have dedicated my whole life to one club - it would be difficult and not well accepted."
Wenger, who won three Premier League titles and seven FA Cups with Arsenal, including the Double in 1998 and 2002 during his tenure, says he "misses" football and remains a Gunners supporter.
He was replaced by Unai Emery, who has enjoyed a solid start at Emirates Stadium with Arsenal currently fourth in the Premier League table after a 12-game unbeaten run in all competitions.
"When I can watch I am an Arsenal supporter and I am happy when Arsenal win and unhappy when they don't win," he told the BBC.
"It's good that it's smooth and going well.
"I miss the game and the intensity and the beauty of our game. The team work and sharing the emotions are the things you miss but I don't miss the negative things in the game. "
Wenger has not been in management since his last game in charge of Arsenal - a 1-0 away victory at Huddersfield on 14 May 2018.