Rangers: Dave King says 'positive' year despite £14.3m loss
Last updated on .From the section Rangers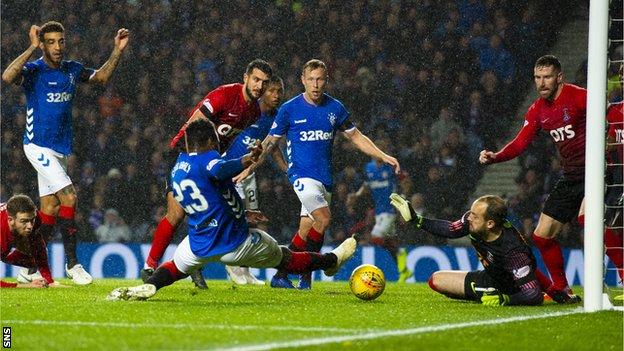 Rangers have announced a £14.3m loss for the year up to 30 June - but chairman Dave King insists the Ibrox club have had a "positive" year.
The Scottish Premiership club declared a £3.4m increase in turnover to £32.6m and a rise in earnings before tax and interest from around £100,000 to £4.2m.
However, operating expenses rose, too, from £31.3m to £38.9m.
King said the figures reflect the "rebuilding" needed across the club after several troubled seasons.
In a statement, he said the results "can be reviewed in various ways" but that the "underlying and strong message" is that Rangers are moving forward.
King added: "It was inevitable, given our dire starting position, that vast amounts of money would have to be spent on rebuilding our facilities and the various departments within them.
"These costs are reflected in the figures but it is important to highlight that the last financial year saw us normalise our financial affairs to the extent we no longer face questions about our financial strength when dealing with suppliers, other clubs and financial institutions.
"This is an extremely positive change over such a short period and I cannot thank my fellow directors and other investors enough for their continued support which helps drive our club forward."
Rangers recently held a share issue which enabled King and a number of investors who had loaned the club around £16m to convert much of the debt into shares.
The club also confirmed that their annual general meeting will be on Tuesday, 27 November at the Clyde Auditorium in Glasgow.