Leicester City: Will Aiyawatt 'Top' Srivaddhanaprabha continue his father's work?
By Ian Stringer
BBC Radio Leicester
Last updated on .From the section Leicester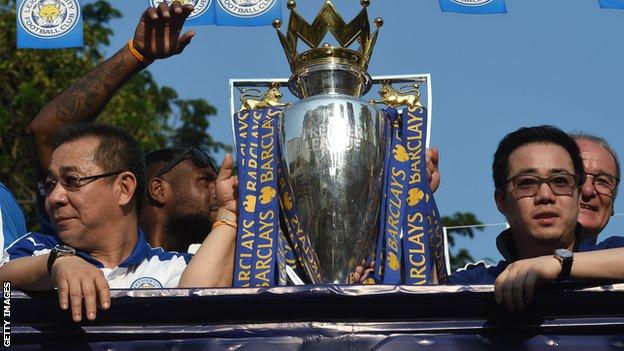 When Vichai Srivaddhanaprabha's King Power corporation held a news conference in 2010 to confirm it was taking over Leicester City from previous owner Milan Mandaric, his son Aiyawatt 'Top' Srivaddhanaprabha was there at his side.
The clearly nervous father and son sat at a table at what was then the Walkers Stadium, a glass of water their only distraction.
I could empathise with their nervousness as the announcement was my first big press conference as a local radio reporter.
The audience of Leicester supporters seemed apprehensive too. The Foxes hadn't long since been on the brink of extinction, having come out of administration in 2003.
Now the Foxes' prospective new chairman after his father's shocking death in Saturday's helicopter crash, Top was then a fresh-faced 25-year-old.
Respectfully, and in broken English, he added to some of his father's answers to the questions, discussing their hopes and dreams for the club, and offering some insight into the duty free empire in Thailand that would now be funding the Foxes.
Later, he told me the reason he decided Leicester was the club he'd like his father to invest in was that as a football-mad youngster he had travelled to England to watch a game in 1997.
That game was the League Cup final between Leicester City and Middlesbrough - a Boro team containing Nigel Pearson, who would later manage the East Midlands club. Leicester won the trophy after a replay and Top fell in love with the Foxes.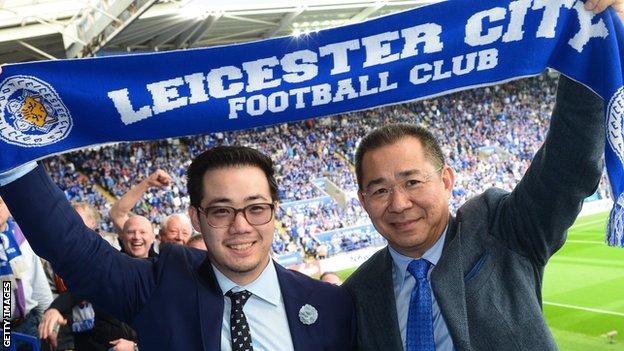 He and his father invested heavily in the club, not just financially but with time and effort too. They had made their billions as retail experts and the Leicester City shop has seen a few revamps under their ownership.
When they opened a Foxes shop in Bangkok I was able to attend, having travelled out for a friendly between Leicester and the Thai national team.
On the day of the opening there was a media call, and I turned up wondering who would care that what was then a Championship club had a shop in the Thai capital. How wrong I was. There were photographers by the dozen and the interviews took an age to get through.
I was back in Bangkok in 2012, running the city's marathon to raise money for charity. Top not only donated £1,000, he also offered a room in the King Power hotel and sent a car to take me to the start line at 3am and back afterwards. He also arranged for a meal for me afterwards. He didn't need to do that.
Warm and incredibly kind, Top also worked hard to learn from his father's business acumen and sporting involvement - whether it be their polo teams or their multimillion pound horse racing investments under Newbury-based trainer Andrew Balding.
He's worked his way up into the senior management of King Power, where he now takes care of the enormous operation in Thailand.
For Foxes fans, the question now will be whether he shares his late father's vision for the club.
The passion seems to be there. I remember him dealing with a question about his dedication to the football club in 2010 - I asked where he hoped to be in five years and he answered "celebrating my 30th birthday at the stadium".
A fine soundbite, perhaps, and certainly the nervous 25-year-old has grown into an accomplished media performer, but I don't think the football obsessed boy who watched that Wembley final all those years ago has changed all that much.
In his tribute to his late father, Top said: "He has left me a legacy to continue and I will do everything I can to carry on his big visions and dreams."
Those visions, I expect, include creating the £100m training ground for which they already have planning permission and improving the first team so that they are again competitive at the top end of the table.
Given the minor miracle already accomplished in turning the club into the Premier League's unlikeliest champions, I would put nothing past them.