Hearts 0-0 Hibs: Neil Lennon 'furious' over coin attack in Edinburgh derby
Last updated on .From the section Scottish Premiership
"Furious" Hibs manager Neil Lennon called for the supporter who hit him with a coin during a stormy goalless Edinburgh derby to be "singled out".
Lennon was struck "on the jaw" moments after appearing to celebrate Hearts having an injury-time goal disallowed.
Hearts keeper Zdenek Zlamal was also "punched" by a fan while both assistant referees, Frank Connor and David McGeachie, were struck by objects.
"It's unsavoury to say the least. It's unacceptable," Lennon said.
"People will say I was winding the crowd up; I wasn't. I was just giving a bit back for the abuse I was taking for 90 minutes."
Hearts counterpart Craig Levein said it was "ridiculous" Lennon and Zlamal were subjected to such attacks.
"There's no place for that," Levein said. "Bobby got punched [by a supporter] at one end and Neil has been hit by some idiot with a coin.
"I got a fright when I saw Lenny on the ground. I hope they catch whoever it was that threw it. They need to be dealt with."
'People say I bring it on myself... I'm not having that'
Police Scotland have already spoken to Lennon about the incident, and plan to speak to Zlamal.
Lennon turned around towards the celebrating Hearts fans after the goal was disallowed but he dismissed any suggestion he had done anything wrong.
It came seven years after he was involved in an incident with a Hearts fan on the touchline at Tynecastle during his tenure as Celtic manager.
"People say 'Neil Lennon brings it on himself, he deserves to get hit by a coin' or whatever. I am not having this," he said. "I've had it here before, a guy coming on to the pitch trying to attack me. It is not on.
"The guy must have a few quid because it was a pound coin. I would like to meet the individual who threw the coin some day, because I am not happy about it at all.
"It stung me; it is quite sore. I don't know where he has thrown it from, but it is a good shot. He might get in the World Matchplay [darts] next year. It came out of nowhere. I am furious about it, to be honest."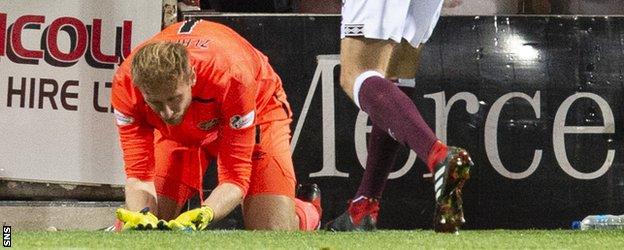 'It is just an absolute disgrace'
Lennon also said he hoped the supporter who punched Zlamal would be "singled out, banned and arrested".
Hearts manager Levein said his goalkeeper was struck by a fan in the Hibs end as he retrieved a ball from behind his goal during the second half.
Lennon said the Hibs fan responsible must be punished.
"We don't condone that. It isn't the face of our club or way we conduct ourselves. A player getting punched trying to do his job is just an absolute disgrace. He is not a Hibs fan," Lennon said.
"It's blackening the name of both clubs and Scottish football. This should be a showpiece game, it was feisty and intimidating, everything you expect.
"But if people can't behave themselves they should be banned, singled out, embarrassed and humiliated, because they have humiliated the club."