Neil Lennon: Robbie Neilson & Gary Caldwell on coin throw at Tynecastle
Last updated on .From the section Scottish Premiership
"It will be front page and back page. We need to make sure the convictions are front page and back page. The bans and fines need to be visible."
Former Hearts manager Robbie Neilson was clear in his views about what should happen after Hibs boss Neil Lennon was struck by a coin thrown from the crowd during Wednesday's Edinburgh derby.
Lennon briefly fell to the ground after the stoppage-time incident, later telling BBC Scotland that he was "hit by a coin, right on the jaw".
Hearts manager Craig Levein also reported "a punch" had been aimed at his goalkeeper Zdenek Zlamal by a spectator during the goalless draw, while both assistant referees, Frank Connor and David McGeachie, were struck by objects.
But what was the reaction on BBC Scotland's Sportsound in the immediate aftermath of a combustible contest?
'Will it take someone being seriously injured?'
Dundee United manager Robbie Neilson
It's a sorry day. Football is about drama, entertainment, it can be a pantomime at times. But a line was crossed tonight.
It's something that's always been there, it's the idiots that do it. When you throw it, it could hit a child sitting at the front of the stand. You don't know what impact it could have.
It's how we deter it, that's the biggest thing. What generally happens is the clubs will get restrictions against them, fines. The police have to get involved, they have to make a big stand to try and cut it out.
Is it going to take somebody getting seriously injured before the authorities do something about it? By that point it's too late.
'As football managers we have to be above that'
Partick Thistle manager Gary Caldwell, who said he was hit by a missile thrown from the crowd at the weekend
Whoever did it, he or she shouldn't be allowed in a football stadium again.
But as football managers or coaches we have to be above that, we have to be professional and concentrate on the game and not listen to anything that goes around and not goad the fans into doing anything like that, even though it's ridiculous that people could throw something at a human being.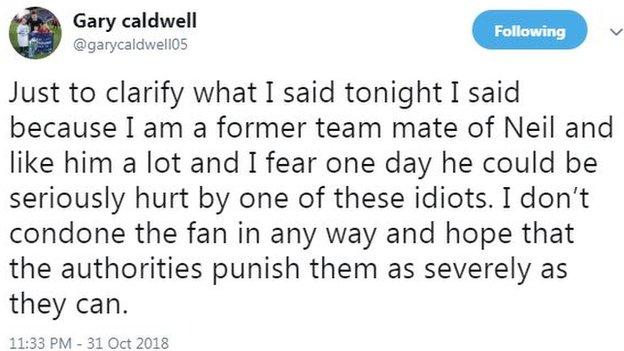 'These guys aren't football fans, they're thugs'
BBC Scotland's chief sports writer Tom English
Neil Lennon doesn't bring it on himself. It's scandalous, it's disgraceful. There's no need for him to turn around and tell the Hearts fans to be quiet because the goal has been disallowed, but that in no way excuses the absolute idiocy of those fans throwing a missile from very close range.
There will obviously be serious repercussions from this. These guys aren't football fans, they're thugs. If this happened in the street the police would get involved, so the police need to get involved.