Zambia FA and Cosafa lead tributes to the late Leah Namukonda
Last updated on .From the section African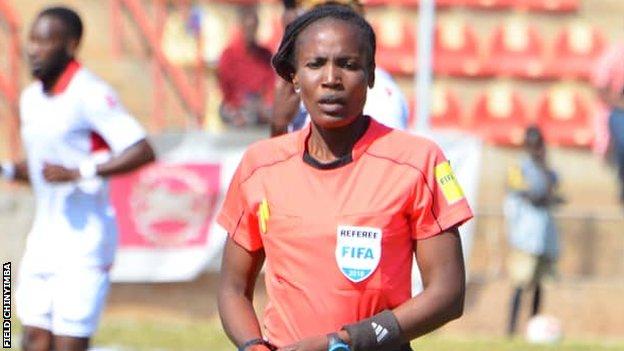 The Football Association of Zambia and the southern African regional body, Cosafa, have led the tributes to referee Leah Namukonda, who died after a car crash.
The 41-year-old passed away in northern Zambia on Wednesday after being involved in a car crash over the weekend.
The accident happened just a few hours after she had acted as the fourth official for a men's league match between Buildcon and Power Dynamos.
She was a referee on a regular basis for the men's Super League in Zambia as well as being a Fifa-approved match official.
Football Association of Zambia (Faz) general secretary Adrian Kashala said her death was a great loss.
"Namukonde was one of the leading lights in refereeing and joined the elite Fifa referees panel in 2016," he said.
"She was part of the 2018 Cosafa Women Championship in Port Elizabeth South Africa."
The regional body, Cosafa, also joined in mourning Namukonde, who was a teacher by profession.
"She was a very humble member of the Cosafa referees family," the Cosafa referees manager Felix Tangawarima said.
"It is a very sad day for all of us in the Cosafa referees family. Leah had a bright future in her refereeing career which has just been cut short.
"My sincere condolences to her family, to Cosafa and the Cosafa referees family, the Zambian referees fraternity and The Football Association of Zambia.
"I pray that God gives you the strength to go through this very difficult period."
Zambia's leading referee Janny Sikazwe said her loss would not just be felt in the country but by the whole region.
"Leah was a friend to me, a colleague and sister. We have lost a soldier who always was pushing for more women to get involved in refereeing," he said.
Namukonda was a regular feature in the domestic league where she refereed a number of games.
Despite her achievements in Zambia and in southern Africa she had not been named as one of the officials for the forthcoming Women's Africa Cup of Nations in Ghana.
Namukonda's death leaves Zambia with only one Fifa female referee, Gladys Lengwe.