Jack Grealish: Villa boss Dean Smith says refs should show more cards to 'protect' players
Last updated on .From the section Aston Villa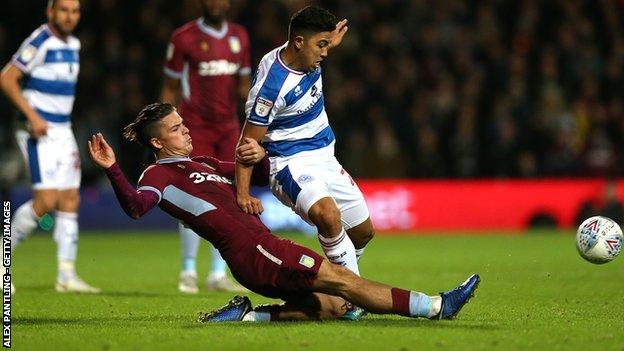 Aston Villa manager Dean Smith says referees need to show more cards to 'protect' targeted players like his star asset Jack Grealish.
And, ahead of Friday's home game with Bolton Wanderers, Smith is looking for more protection from referees.
"On the continent, there's more yellow cards for tactical fouling. People need to be carded," the Villa boss said.
"When there's players like Jack Grealish that can influence a game so much with his talent, he'll be targeted because they can't get the ball off him.
"He's one of the best I've seen at protecting the ball - and it frustrates the opposition.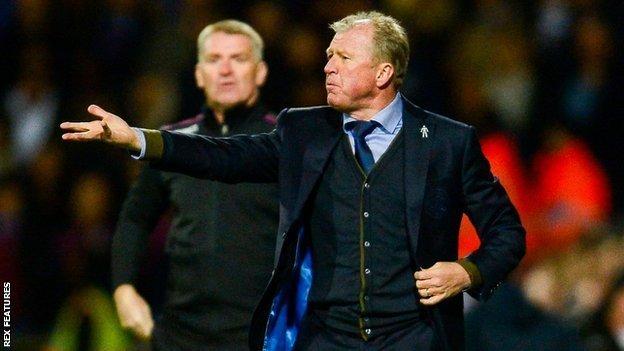 "There were certain incidents when he was fouled and advantage was played, yet they didn't go back and speak to the players who were doing the fouling.
"A player of that quality needs protection from referees. They should be brandishing yellow cards."
Smith's complaint echoes that of his Villa predecessor Steve Bruce, who accused Cardiff City of kicking him "from pillar to post" in a defeat in south Wales two seasons ago.
Grealish's form under Bruce last season was a major factor in the Midlands club making it all to the way to the Championship play-off final at Wembley.
And his comparatively subdued form this season, once his mooted August window move to Tottenham had broken down, was a contributing factor behind Bruce's departure.
But, going into 17th-placed Villa's meeting with 19th-placed Bolton, Smith is confident that, if given the protection he craves and allowed to play his football, Grealish can still be a major factor in a Villa revival this season.
"In the past he's got frustrated in games and gone looking for the ball and I don't think he needs to do that," Smith told BBC WM.
"We've got enough good players who can get the ball to him. He just needs to be a bit more patient. He's started to understand our structure and where he belongs it."
What they said at Loftus Road
Dean Smith:
"QPR were like a tag team kicking him. (Massimo) Luongo's had four or five kicks at him and other players have.
"He needs protection. If they brandish a yellow card very early then it stops it. He's the most fouled player in the league, we all know that.
"Does he get the protection he deserves? I don't believe he does at the moment. I suppose it's the only way the opposition can stop him.
QPR boss Steve McClaren:
"I've got to say I wish we were that clever to rotate around to kick him, Jack Grealish is a player we had to stop and we did that to a certain degree.
"I don't think they took turns, I just think we had to stop him. He's just that good a player - you think you've won the ball and you just nick him.
"They were all small fouls, not big ones. That really upset his rhythm, which we needed to do. The officials were very good and handled the game well, with not too many yellows despite all the fouls."
Aston Villa boss Dean Smith was talking to BBC WM's Mark Regan