John Askey: Shrewsbury Town 'need a result' at Wimbledon, says League One club's boss
Last updated on .From the section Shrewsbury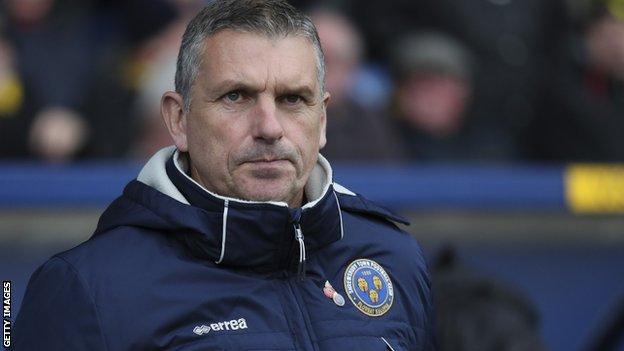 Shrewsbury boss John Askey says getting 'a result' at Wimbledon on Saturday may determine whether he stays in a job.
Following Hurst's sacking at Ipswich after 15 games in charge, Askey admits that he is under threat too.
"You keep fighting to the bitter end," he told BBC Shropshire.
"Hopefully the players will be doing that, keep supporting me and we'll look back in a few months' time and think 'what was the problem?'
"But, if we [go] to Wimbledon and [don't] get a result then I know what to expect.
"I'm working hard. I'm doing the best I can do, but sometimes it takes time."
'I won't be throwing in the towel'
Aside from a brief spell as caretaker boss, Askey first became manager at his previous club Macclesfield Town in 2013, when he was promoted from his role as youth team boss to be appointed ahead of five other candidates, including former Liverpool and England striker Robbie Fowler.
It took him five years to deliver the Silkmen's dream of a return to the Football League.
"It took five years to get it right," he said. "But you've got to show you're improving and getting better. That's what we've got to show on the pitch.
"If we don't improve then you know what to expect as a manager, but I can assure you I won't be throwing the towel in.
"You don't stay in football as long as I've done by not being determined and knowing what you're doing."
Local media reports have already started speculating that Askey's position is under threat - and that the Town board have met to chew over the prospect of a sixth manager in less than five years.
Asked whether he had been given any final warning by the club, Askey added: "No, but I'm not stupid."
Shrewsbury have won just three times in 16 League One matches so far, albeit two of those victories came during October. They are 19th in the table, a point clear of the drop zone and four clear of 23rd-placed Wimbledon.
'I'm not a quitter', says Dons boss Ardley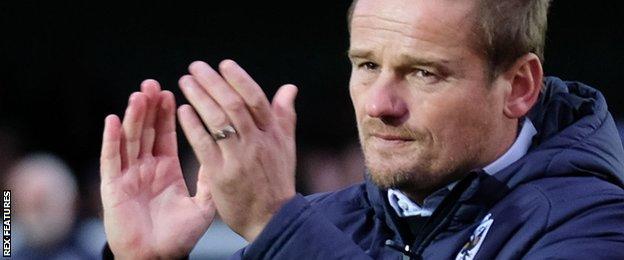 The position of Wimbledon manager Neal Ardley is also under scrutiny after six successive defeats.
"We understand how the results have been and we haven't buried our heads in the sand on this," he told the club website.
"The board have put out a statement backing me for the time being and I think it's really important that we understand because you can take the statement in many ways.
"They are not saying I am here until January and they are giving me transfer funds, but they are saying that for the time being they believe I can turn it around. I thank them for the support, but the reality is that it hasn't been good enough."
He continued: "Whether you are one of the fans who believe I could be given more time or whether you believe it's time for me to go, I understand that.
"I understand the frustrations, I am as frustrated as the fans, but I'm not a quitter, I've never quit on this club. I don't think I could leave this club with me being a quitter."
Ardley is currently the third-longest serving of all 92 managers in the Premier League and EFL, having been appointed in October 2012.
John Askey was talking to BBC Shropshire's Nick Southall.