FA changing room regulations: step three and four clubs respond to relegation warning
Last updated on .From the section Football38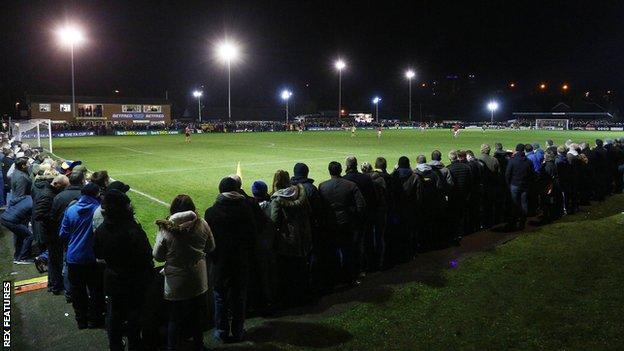 Seldom has 18 square metres been such an important dimension. For clubs in steps three and four of the football pyramid, it will prove to be a critical one.
The Football Association wrote to a number of non-league clubs warning of relegation if they do not make their dressing rooms larger.
Current rules state rooms need to be at least 12 square metres in the seventh and eighth tiers, but this will increase to 18 square metres by March 2019. No ifs. No buts.
While some teams have already implemented the changes, other clubs have expressed concern over funding the work.
'I've sort of gambled, but it hasn't paid off'
Warrington Town made headlines in November 2014 when, before the live BBC cameras, they knocked out League Two side Exeter City to reach round two of the FA Cup.
Their 2,500-capacity Cantilever Park was rocking under the floodlights, as plasterer Craig Robinson headed in the winner.
Fast forward four years, and what was good enough for The Wire back then will no longer be good enough for the Northern Premier League (NPL) side next season.
"People have been asking 'why haven't you got the work done?'" chairman Toby McCormac told BBC Radio Manchester. "The reason is - because it was rumoured at one time there may be a tolerance issued by the FA.
"Even if the FA put a tolerance out of even 5%, I'd have been within it and wouldn't have needed to do the work. I've sort of gambled and I am still 57cm short in one changing room and a metre in the other."
With ambitions of playing at a higher level, Warrington have ensured the work that is needed will take place within their existing budget, rather than needing to raise extra funds.
"It's been factored in to how I'll set the budget for this year, based on where we want to get to," McCormac added.
'Unrealistic' timescale to achieve this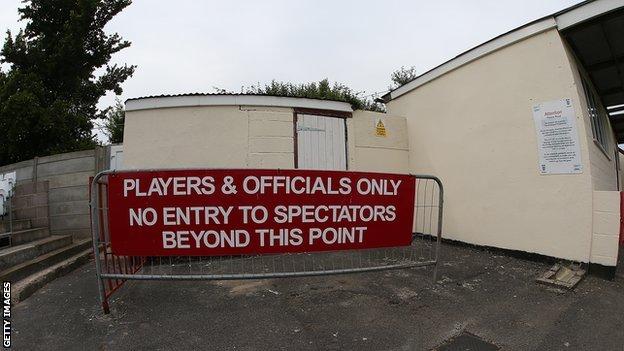 Another of the clubs who need to expand their changing rooms are Southern Premier League South outfit Frome Town, who are concerned about the difficulties of meeting March's deadline.
"The process of getting planning permission, quotes from contractors and finding the money from grants is just not doable in that timescale," Frome's football and operations director, Gary Collinson, told BBC Somerset.
"It's difficult to work out how we can do it, if we can do it. It won't ruin us, but it will affect other things we're trying to do.
"It could cost an awful lot of money. There is grant funding available but that takes time to process.
"It's a really short timescale. Our issue is that they haven't given us a realistic timescale to achieve it.
"We go to places that have far, far inferior facilities, so the size of the changing room, this seems to be something that's relatively petty."
FA 'using a sledgehammer to crack a walnut'
Somerset side Taunton Town, who play in the same division as Frome, say the specific requirements for '18 square metres' was only relayed to them earlier this year.
Kevin Sturmey, Taunton's chairman and head groundsman, told BBC Sport: "The letter seemed fairly austere. Virtually all clubs at our level are run by volunteers.
"We're quite lucky - we've got 4.6 acres - so we've got quite a lot of space, but some clubs' changing rooms are built within their boundary and they have no room to expand. For a lot of clubs, it'll be harder than for ourselves.
"It does seem like a sledgehammer to crack a walnut, but that's not unusual with the FA and non-league football.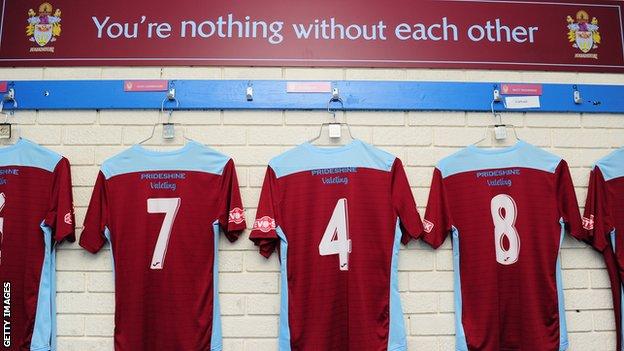 "There's no advice, no lists of recommended companies. What we need is help and guidance. It does feel like you're given no help whatsoever."
Other divisions are more progressive, highlighted by Warrington's experiences in the NPL.
"We've been fortunate as members of the NPL that they've been hammering clubs for a couple of years now, doing ground inspections and at the same time helping clubs - coming up with suggestions of how to go forward," McCormac continued.
"We'll have to get our work done in between fixtures in time for a March inspection."
'The FA don't tell you how to fund it'
Not all clubs have the necessary finances to fulfil the regulations, although there has been plenty of warning.
The FA said notice of the change was given in 2014, and affected clubs can apply for up to 70% of the funding for any work. Clubs have until July to complete the work.
Clubs must deliver planning permission, if required, proof of funding and a completed, enforceable contract to both the FA and their league by the end of March.
The Football Stadia Improvement Fund, managed by the Football Foundation, can offer partial funding for improvement work.
Mossley AFC, of the Northern Premier League West Division, found other means to complete the necessary alterations.
"It was down to volunteers," secretary John Wharmby said. "We had to take a complete wall out in the corridor to comply with the 18-square-metres ruling.
"Within the volunteers, a few of the lads were builders, so we started work 12 months ago and luckily the work's been done now and everything has been passed.
"Plus we had to put in a female changing room as well. They don't tell you how to fund it, they just tell you to do it and if you don't, they relegate you."