'Edinburgh derby scenes proved folly of booze ban repeal'

By Tom English
BBC Scotland
Last updated on .From the section Scottish
Let's see. In the space of a month we have had an assistant referee being hit by a coin thrown by a Rangers fan in their Scottish Premiership game against Livingston. We had an elderly woman being hit by a bottle thrown by a fan - believed to be a Hearts supporter - outside the League Cup semi-final at Murrayfield. And now we have coins and cigarette lighters and punches and God-know's-what-else thrown at players and management and officials at Tynecastle during the first Edinburgh derby of the season.
What we also have is the chief executive of the Scottish FA, Ian Maxwell, giving credence to the reintroduction of the sale of alcohol inside football stadiums.
Maxwell needs to take a reality check here. To the many, widely available booze inside football stadiums wouldn't be a problem in the slightest. To the few, who spoil it for the many, more drink is the last thing they need. Or anybody else needs.
If Tynecastle didn't prove the truth of that, then the advocates of a repeal of the ban on alcohol are living in a different world.
It was powderkeg as it was. It always is for this fixture. On Wednesday, it became something else, something unsavoury. Every lover of Scottish football revels in its unique capacity for bonkerdom, but this was too much absurdity. Imagine extra buckets of drink being thrown into Wednesday's mix. It's not a thought you'd want to linger on.
Hearts goalkeeper Bobby Zlamal allegedly getting punched, assistant referees hit by missiles, and, of, course, the physical and sectarian abuse of Neil Lennon.
'Twisted morality around Lennon'
Much of the post-match reaction has centred around the Hibs manager, so let's look at that.
Lennon has lived much of his footballing life in Scotland receiving sectarian abuse. Week after week, year after year, he gets it. We all hear it, but rarely does anything ever happen to the perpetrators. The governing body throws its hands in the air and says there's nothing they can do unless they get the say-so of their members, the clubs.
The clubs flunk it, time and again. When they're asked about introducing a version of strict liability, or some other means by which they can dole out punishments to clubs for the behaviour of their supporters, they hide.
Nothing ever changes and so there is an acceptance that Lennon will be targeted and, well, he just has to suck it up. He sucked it up all Wednesday evening at Tynecastle until the final minutes when Hearts thought they'd scored and he rather enjoyed their moment of realisation that they actually hadn't.
Was his reaction necessary? No. Was it provocative? Yes. Was it seriously unwise given the atmosphere in the stadium at the time? Yes, again.
But we can't look at what he did without stopping to think for a second about why he did it. Lennon didn't just have to put up with 90 minutes of abuse on Wednesday, he's been putting up with it pretty much for 18 years and, as we know, it has become dangerously physical abuse at times. On the touchline at Tynecastle among other places.
It's easy for people to say that he shouldn't react, that he should be professional about it, that he's the manager of one of Scotland's major football clubs and his behaviour should reflect that. We should try walking in his shoes for a week. None of us have much of an idea about the casual sectarianism he has to contend with.
There's a twisted morality at play here when we ignore the abuse but then focus on the abused when he dares to respond.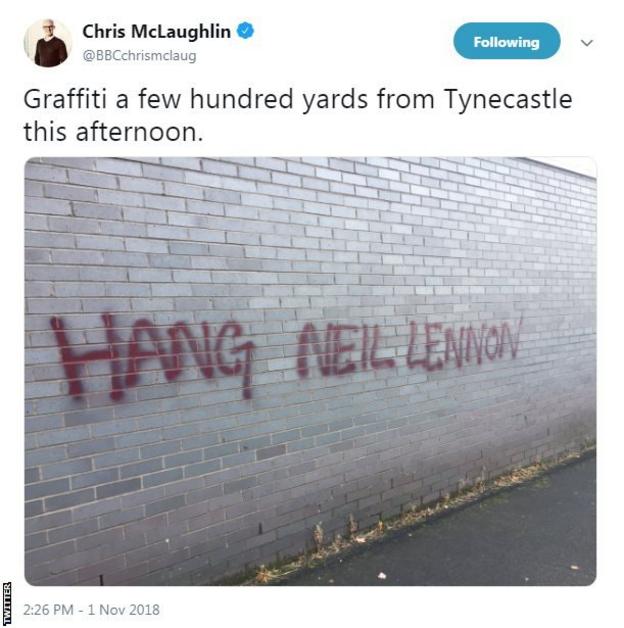 'We love a rammy, but that careered over the line'
Lennon is a tough man, but coin-throwing? That goes miles beyond what is acceptable in the cut and thrust of a derby game.
And the same goes for Zlamal, the Hearts goalkeeper, who took a punch to the head from a Hibs fan during the game. "Yesterday's result was 0-0, but everybody knows, who the losers are..." he tweeted on Thursday. "You punched me in the face, I was ok - no big deal - but feel sorry for your personal tragedies that force you to behave like this. Our kids are watching the games and I'm sure they can recognise their real heroes."
You felt for Zlamal, for Lennon, for the officials who got targeted. You also felt for the vast majority of fans on both sides who have no truck with this stuff. On social media, their voices tend to get shouted down by the cyber warriors, the hate-mongers, the conspiracy theorists and the whataboutery set. Twitter gives these people a platform to stoke fires.
When the madness is contained to the darkest shadows online, then that's OK, but when it moves from the computer screen to the football stadium and becomes real then we have a problem. Amid the chaos of Wednesday we can get side-tracked about Lennon and the one-eyed claim that "he brings it on himself". That's such a convenient way of looking at it.
You don't need to be the brain of Britain to know who the bad guys were on Wednesday and you don't need to be Taggart to find them and deal with them.
Let's be honest here. We all love a rammy, journalists more than anybody. We like a row as much as we like our next breath in this profession, but what happened on Tynecastle careered way across the line into a grim place. The only relief was that, in the environment of the night, it could have been worse. Nobody was hurt. This time.