Antonio Conte 'reluctant' to take Real Madrid job - Ramon Calderon
Last updated on .From the section European Football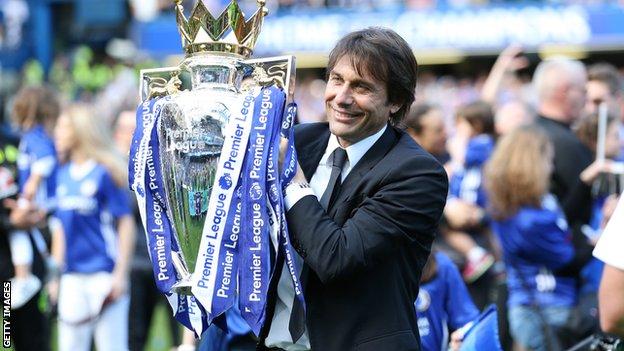 Antonio Conte is "reluctant" to become Real Madrid boss, with the club unlikely to meet his demands, according to former club president Ramon Calderon.
The former Chelsea manager has been linked with the European champions - who sacked Julen Lopetegui after Sunday's 5-1 defeat by Barcelona.
"He's asked for three years and to come in with five people and have hands free for signings and transfers," Calderon told BBC Radio 5 live's Football Daily Euro Leagues Show.
"But that's something the president [Florentino Perez] isn't willing to accept."
Calderon, who was Real president from 2006 to 2009, does not think the former Juventus and Italy boss would be a popular choice.
Conte was sacked by Chelsea in July - a year after leading them to the Premier League and FA Cup double. He had previously won Serie A in each of his three years in charge of Juventus.
But Calderon said: "I don't think Antonio Conte will be the coach the Bernabeu is expecting. He's like Jose Mourinho - a defensive coach with normally three centre-backs playing counter-attacking football.
"That's not what Real Madrid expect to see. The president tried this before with Mourinho. They didn't win the Champions League and he left the club in a bad situation."
Real Madrid are currently ninth in La Liga after four defeats in their opening 10 league games under former Spain boss Lopetegui, who lasted less than five months in the job.
Wenger? Martinez? Who else could take over?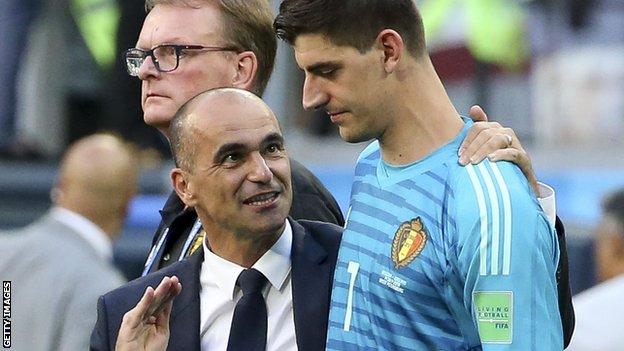 Real's caretaker boss is reserve-team coach Santiago Solari, a former Real player.
His promotion is similar to that of Zinedine Zidane in 2016, although the Frenchman stepped up from the reserve team straight into the Real coach's role on a permanent basis, and went on to lead them to a record three consecutive Champions Leagues before stepping down this summer.
"Nobody knows" whether former Argentina winger Solari, 42, will end up taking permanent charge, according to Calderon.
The ex-president says his first choice would be Belgium boss Roberto Martinez, the former Swansea, Wigan and Everton manager, or Tottenham boss Mauricio Pochettino.
But he thinks Manchester United manager Mourinho, Real's boss from 2010 to 2013, would be Perez's pick if he was available.
"I'd like Roberto Martinez but he has an existing contract with Belgium. Pochettino also has one with Tottenham," Calderon said.
"The president has got in touch with many people like Martinez, Pochettino, Conte, Mourinho.
"Mourinho is the only coach that the president has respected or backed even though he did many wrong things in my opinion. He is a coach who is always blaming others for his failures.
"If Mourinho was free now, he'd be here - you can be completely sure. Conte has been the one to be in the crosshairs of the president but he knows what happens here. He's reluctant."
Calderon does not think Arsene Wenger, who stepped down this summer after 22 years as Arsenal boss, would be interested in taking over because of the way the president runs the club.
"He interferes in the line-up," said Calderon of Perez - a man he frequently criticises publicly.
"He decides the signings because of his whims. There's no football director.
"He's remodelling the stadium and spending 600m euros in doing that. Nobody was complaining about the stadium. That's why we cannot sign any players - no big players are going to come in for less than 200m euros these days.
"Wenger could be another contender but he works in long-term planning and that's not the case at Real Madrid now."
What have previous successful managers had in common?
Real Madrid have won six Champions League titles this century - in 2000 and 2002 under Vicente del Bosque, 2014 with Carlo Ancelotti, and for the last three years under Zidane.
All three played for their respective countries and won top league titles during their playing career.
The last two managers - bar Lopetegui - to not win the Champions League, Mourinho and Rafael Benitez, did not have stellar playing careers.
"We've won the last six Champions Leagues with coaches like Del Bosque, Ancelotti and Zidane - coaches that were top players and knew what it was like to be in a dressing room full of stars because they were one of them," said Calderon.
"So what they did was not to be very complacent with players but motivate them. They would not be protagonists and would stay in the background. [The key is] to motivate them and put out the fire when the egos are appearing in the dressing room. Sometimes when you have very big, top players you need to work in a different way.
"That didn't happen with Mourinho or Benitez, it's not a matter of a firm hand. The players know what to do on the pitch."