Glasgow City 0-3 Barcelona: Scottish champions not embarrassed - Scott Booth
By Andrew Southwick
BBC Scotland
Last updated on .From the section Women's Football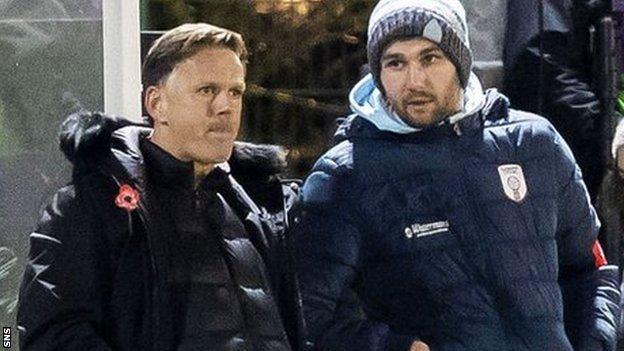 Glasgow City did themselves proud despite losing 8-0 on aggregate to Barcelona in the Champions League last 16, insists head coach Scott Booth.
Two goals from England striker Toni Duggan and one from Alexia Putellas gave Barca a 3-0 win at Petershill Park on Thursday.
That brought City's season to an end, having secured their 12th consecutive league title last weekend.
"Despite the scoreline, they've not been embarrassed in any way," he said.
"We know we made a couple of mistakes over there and a couple more at home. And, when you make mistakes against this side, you see what they can do to you. They cut you open.
"You're talking about a club that's got much better resources than we have. They play football in the right way and it was good to see it up close and personal, but it was also good to see our players dig in, work for each other, fight hard and tonight we did try to play a higher game and take it to them, but it's very difficult because they keep the ball for so long."
Booth's contract as head coach of City is up in the summer of 2019, but he refused to be drawn on whether he will extend his stay at the Scottish champions.
Having won the league again and taken City into the last 16 of the Champions League for the first time since 2014/15, the former Aberdeen and Borussia Dortmund forward may well have reached a ceiling as to how far he can take them.
The gulf between City and the top teams in Europe is almost impossible to bridge until such time as clubs in Scotland become full-time.
Domestically, City remained unbeaten in the league - winning it by three points ahead of Hibernian - but lost in both cup semi-finals to their Edinburgh rivals.
"I never really think too much about myself in that way, it's more about the job that I can do," Booth told BBC Scotland.
"At the moment, my contract takes me to the summer time and I'm really not looking much further in my coaching career than then.
"Just purely because it's such a massive job between now and then, you've got to have pretty much perfection in the league to win it.
"We've not been beaten in the league here this season and that's why we've won it, so it's such a big job and every season the rest will want it even more and I think people are waiting for the day it's not going to be City's, so it's up to us to go and keep doing it."