Hearts' Craig Levein says imposing closed-doors games a 'bit dramatic'

By Brian McLauchlin
BBC Scotland
Last updated on .From the section Hearts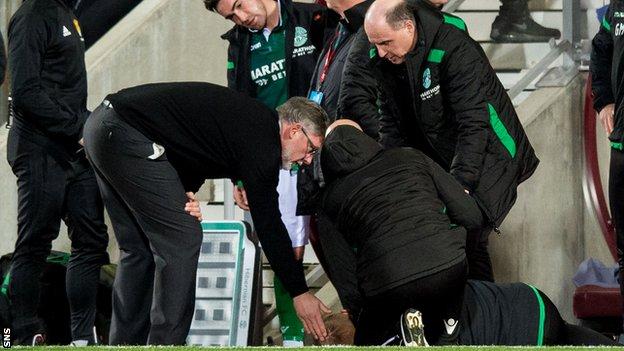 Craig Levein thinks forcing Hearts to play behind closed doors for incidents like those at Wednesday's Edinburgh derby would be "a little bit dramatic".
Hibernian head coach Neil Lennon and two assistant referees were struck by objects, while Hearts goalkeeper Zdenek Zlamal claims a fan punched him.
Former referee Steve Conroy has called for clubs to face strict liability.
But Hearts manager Levein said: "There were five people arrested. It's not as if there was a full-scale war."
The Hearts manager admits he has feared for his own safety in the past but stressed that only "some idiots" failed to behave.
"I don't want to talk about a derby match being played in front of no people - that's nonsense," he said. "We don't want to go into the situation we had with barriers.
"Definitely people crossed the line. We just have to take a step back and consider the best way to deal with it rather than getting too excited."
Levein was pleased to hear that opposite number Lennon had recovered from being hit by a coin at Tynecastle.
"I didn't know what happened at first, I thought he'd collapsed," he said. "I got a real shock.
"He was fine when he got up and I was chatting to him a little bit after the game in passing and he seemed okay."
Lennon had been attacked by a fan at Tynecastle while manager of Celtic, but Levein did not think it was a problem particular to the Edinburgh club's stadium.
"I've been to lots of grounds where there's interactions with people behind the dugouts," he said. "I've been spat on, I've been called this, that and the next thing, but I've tried my hardest not to react to that.
"It's on all of us to try not to react to these things, to try to focus on the game and not get involved with the crowd. That's incumbent upon every manager.
"The sensible approach is to not to get involved, try not to antagonise people, keep your head down and walk away. There's no winners if you get involved with these guys behind the dugouts."
Levein stressed that most of the 20,000 fans contributed to an exciting occasion between two sides competing near the top of the Premiership table.
"I thought the atmosphere was brilliant the other night," he added. "It was up there with the best atmospheres in a lot of games.
"With both teams doing so well right now, everybody's so keyed up. Some people just seem to go over the line."