Are football players and managers safe from pitch invaders and rogue fans?
By Alistair Magowan
BBC Sport
Last updated on .From the section Football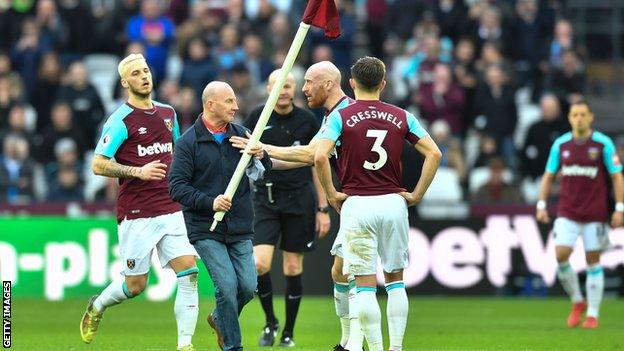 Burnley return to London Stadium on Saturday, 238 days after the most troubling game since West Ham's move to their new home in the summer of 2016.
The 3-0 defeat by Sean Dyche's side was marred by crowd trouble and pitch incursions, which included Hammers skipper Mark Noble wrestling with one fan to get him off the pitch.
Five life bans were issued, but that didn't stop two more fans encroaching onto the pitch in the Carabao Cup defeat by Tottenham on Wednesday, coinciding with Halloween.
More incidents ensued the same night at the Edinburgh derby when Hibernian boss Neil Lennon was hit by a coin, and Hearts goalkeeper Zdenek Zlamal was struck by a fan's "punch".
And we have since found out that a fan who ran onto the pitch during Manchester United's home game against Juventus last week, had two toy guns in his rucksack, left in his seat, sparking all sorts of security questions.
It has been a concerning train of events, begging the question: are players and managers less safe?
Why do fans go onto the pitch?
Paul Colborne was banned from West Ham for life for what he calls a "peaceful protest" on the pitch when the Hammers last played Burnley.
The Tour operator from Welwyn Garden City, who has been watching West Ham for 50 years, took a corner flag and planted it in the centre spot, emulating a famous protest at the former stadium Upton Park in 1992.
He says he exchanged "amicable" words with Hammers defender James Collins, before passing over his season ticket and then handed himself into a police station a day later.
"James asked me 'what are you doing?' I said you've been here six years James, I've been here 50," he told BBC Sport.
"All the people of my generation understood that it was a peaceful, symbolic protest. The steward who came over to escort me out of the stadium said 'I agree with you mate, but what can I do?'"
Colborne ended up in court, was fined and now cannot go to home or away games. He says the protest wasn't pre-meditated and was out of character, but was born out of frustration because of the way the owners had run the club.
He describes security at the stadium, handled by stadium operators LS185, as "pathetic" and sympathises with players who might confront a "psychopath".
But asked if those concerns jarred with him running onto the pitch, Colborne said: "I don't think it's hypocrisy, sometimes you need to have courage in your convictions. I could have been a nutter, and security needs to be stepped up."
LS185 says: "Safety and security is paramount at London Stadium and all matches are staffed in line with the Met Police's categorisation of the fixture."
Do players and managers feel safe?
Former Sunderland and Everton winger Kevin Kilbane, who made 325 appearances in the Premier League, says he has seen plenty of fans rush onto the pitch and "never felt frightened or intimidated in any way".
But he told BBC Sport: "If it goes over the mark, and you think back to when Chris Kirkland was punched by a Leeds fan playing for Sheffield Wednesday, that sort of thing is unacceptable. When a player or a manager is put at risk, I have a major problem with it."
Kirkland was approached from behind and hit, leaving the former England goalkeeper "shocked, upset and angry".
Similarly, Hearts keeper Zlamal and Lennon looked shaken when they were assaulted, with the Hibs boss now set to "reconsider his position".
But Kilbane, who also played for Wigan and Hull, believes the most recent incidents are blips rather than a worrying trend of violence.
"It has happened over the course of football history, and you would think that in this day and age supporters would know that stepping out of line risks a lifetime ban," he said.
"Fans have to take responsibility. They have to recognise that there will be repercussions for their actions. As for stewards stepping in, why would they want to put themselves at risk?"
Crystal Palace boss Roy Hodgson also says he "deplores" fans running onto the pitch.
He added: "I think in most incidences the stewards and the people whose job it is to prevent that do an excellent job, I don't think one should start trying to be over critical when one or two people get through the net.
"It's harder for fans to invade pitches today than it was and it seems to be harder for fans to throw things onto the field than it once was."
Dyche, who takes his team back to London Stadium on Saturday, said he was not worried by a return so soon after the latest pitch incursion.
"I'm sure the right people will deal with anything that's needed," he said.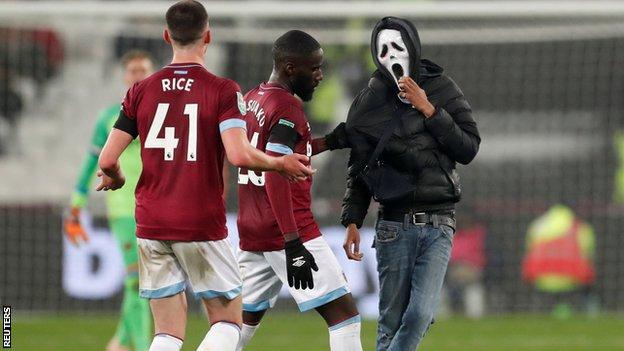 Are incidents on the rise?
Recent incidents may cause concern but they must be placed in a historical context.
Many players, managers and fans say that football is a far safer environment now and bears little resemblance to the 1970s and 1980s when pitch invasions were rife and hooliganism was a constant backdrop.
While those issues still exist, they do not occur at the same regularity.
Home office figures show that arrests for pitch incursions at games in England and Wales have actually been on the rise over the last five seasons from 155 in 2012-13 to 204 in 2016-17 - the most recent season they account for.
But they are yet to reach the 269 arrests made in 2009-10 or reach the 333 made in 2002-03 - the highest figure since these figures were recorded in 1993-94.
Figures from the last seven seasons also show that football-related arrests have dropped from 3,089 in 2010-11 to 1,638 in 2016-17, with a high of 6,185 arrests in 1988-89 since figures were recorded.
Perhaps that lends weight to arguments that football is getting safer, although there has been criticism of the decision to use more stewards at games rather than police, which may also account for the drop in arrests.
Lennon, who said he was "furious" after being struck on the jaw by a coin, might disagree that the game is safer.
Worryingly, figures for games in England and Wales show a sharp rise in arrests for throwing missiles - jumping from 59 in 2015-16 to 91 in 2016-17.