Motherwell: Stephen Robinson says aim is to avoid relegation

By Alasdair Lamont
BBC Scotland
Last updated on .From the section Motherwell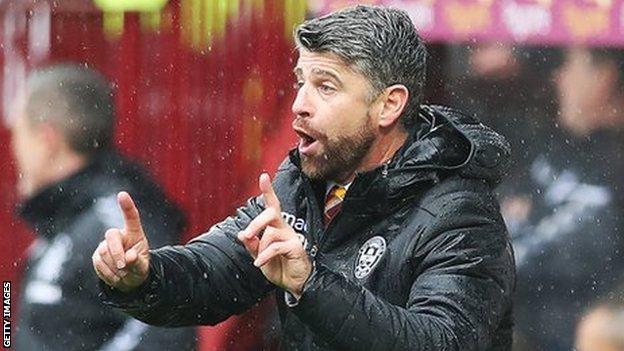 Motherwell will continue to aim high but the bottom line is Premiership survival, says manager Stephen Robinson.
The Fir Park club are five points above bottom side Dundee, who they play at home on Saturday.
However, the Lanarkshire side are seven points behind eighth-placed Aberdeen, who they face at the end of the month.
"My remit is to stay in this division, with the budget we have and the size of club we are," said Robinson.
"My goal might be higher than that but I'll keep that within our dressing room. We just need to build on our result on Wednesday night and see where it takes us."
The midweek win over St Mirren was their first in six league games and Robinson revealed he had turned to some experienced friends in Michael O'Neill and Jimmy Nicholl as he sought to change the team's fortunes.
"I speak to a lot of different people, who've worked at the top level of the game and ask advice from them," he added.
"I'm still learning things as well. I've got a good support network and I use that as often as I possibly can."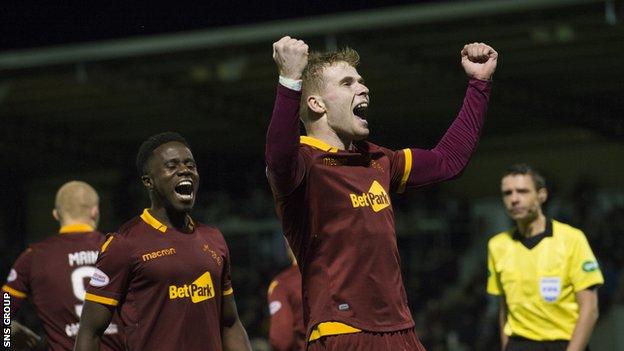 Motherwell's home record is in large part to blame for their stuttering start to the season.
No wins and just two points from five home games is not top-six form and Robinson is keen to put that right.
"We need to worry about us, to produce the same level of performance and play with the same confidence and freedom that perhaps we haven't done at Fir Park so far," he said.
"There is a bit of a gap now. We've done well on Wednesday night to close it a little bit, we've got another opportunity to close it again and we play Aberdeen in a couple of weeks.
"It's still very early, it's still very much in our hands. There is a gulf and there's a gulf in finances. In reality we're probably all fighting for one place in the top six."