Football Leaks claims Euro Super League talks held by clubs
Last updated on .From the section Football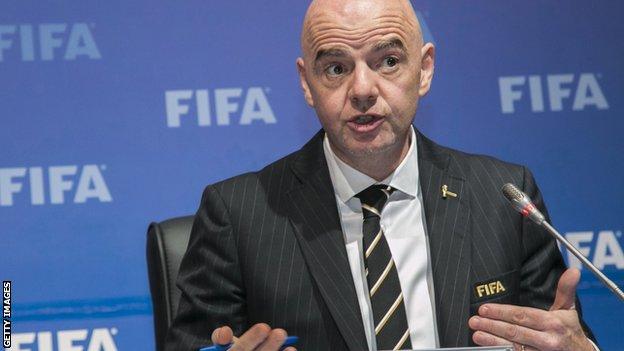 Top European clubs have held secret talks to create a European Super League, according to a report by German publication Der Spiegel.
The newspaper claims leaked documents show the breakaway league could be created in 2021 and see clubs involved leave their national leagues and football associations.
Der Spiegel also alleges separate documents show Manchester City and Paris St-Germain avoided financial fair play sanctions with the intervention of Fifa president Gianni Infantino.
Premier League champions City said they would not comment "on out of context materials purportedly hacked or stolen".
Der Spiegel says its source is a whistleblower they call John, who claims that neither he nor his associates are hackers.
"We have very good sources and a strong network that provides us with a lot of information," he told Der Spiegel.
What about the European Super League?
Der Spiegel claims Real Madrid has joined forces with AC Milan, Arsenal, Barcelona, Bayern Munich, Juventus and Manchester United to form a group of seven sides who went behind the back of Uefa, European football's governing body, to discuss forming a European Super League.
As part of their plans, the clubs allegedly discussed "an option for leaving the national leagues and their football associations behind entirely".
Bayern Munich are supposed to have explored the legal complexities of the breakaway and one of the documents Der Spiegel says it has seen is a "binding term sheet" which 16 clubs would sign to form the Super League.
The new competition, it is claimed, would involve 11 of Europe's biggest clubs, known as the "founders", along with five "initial guests".
The so-called founders, who would include the seven clubs named above along with Chelsea, Liverpool, Manchester City and Paris St-Germain, would not face relegation and would be guaranteed membership for 20 years.
Der Spiegel reports that the five "initial guests," according to the document, would be Atletico Madrid, Borussia Dortmund, Inter Milan, Marseille and Roma.
A Bayern Munich statement said they were "unaware of recent plans for a so-called Super League" and had not "taken part in negotiations relating to such plans".
The club's chairman added: "FC Bayern Munich stands by its membership of the Bundesliga and, as long as I am chairman of the board of FC Bayern, also by the club competitions organised jointly by Uefa and the ECA (European Club Association)."
United declined to comment, while Arsenal, AC Milan, Juventus and Real Madrid have been contacted for their response by BBC Sport.
What are the FFP claims involving Infantino?
Manchester City are owned by Sheikh Mansour Bin Zayed Al Nahyan's Abu Dhabi United Group, while PSG are owned by Qatar Sports Investment.
According to Der Spiegel's report, they overvalued sponsorship deals to help meet FFP rules and, when facing sanctions over the matter, the allegations in the documents state Infantino helped arrange more lenient punishments for them in 2014.
At the time, Fifa president Infantino was in his previous role as Uefa general secretary and City and PSG were both fined £49m, £32m of which was suspended.
Following the latest claims, City's statement added: "The attempt to damage the club's reputation is organized and clear."
A PSG statement said it "has always acted in full compliance with the laws and regulations enacted by sports institutions" and it "denies the allegations".
The club added: "Since the introduction of Financial Fair Play, Paris St-Germain have been one of the most audited and scrutinised clubs in history."
Uefa's response detailed the aims of FFP and added that the system "is a comparatively recent system of regulation" and with "the early cases" took "Uefa and the clubs into unchartered territory".
It said: "Uefa is confident that any apparent inconsistencies that may seem evident to some, have been eliminated as the system has developed and become more familiar to all sides."
Infantino became president of Fifa, world football's governing body, in 2016.
"All decisions on Uefa Financial Fair Play cases are made by the Uefa Club Financial Control Body (CFCB)," said a Fifa statement. "It is an independent body.
"The Uefa administration, which of course includes the general secretary, can assist the CFCB depending on the specific case.
"This may include discussions, meetings, assistance to help find solutions, and other interactions to assist the CFCB in its work. Nonetheless, the CFCB is entirely responsible for their own decisions."
In an interview last week, Infantino spoke in general terms when he said: "My job entails having discussions, having conversations, exchanging documents, drafts, ideas, whatever, on many, many, many, many, topics.
"Otherwise you don't go anywhere. I mean, if I just have to stay in my room and not speak to anyone and cannot do anything, how can I do my job properly?
"So if then this is being portrayed as something bad, I think there's not much I can do more than my job in an honest way, in a professional way and trying to defend the interests of football."
Where did the leaked documents come from?
Der Spiegel says the source of the documents they have obtained is a whistleblower called John, which is not his real name, who founded Football Leaks.
Up to 70 million documents have been provided by Football Leaks and more than 3.4 terabytes of information.
Der Spiegel has shared the information with other media outlets in the European Investigative Collaborations (EIC) consortium, which includes Reuters news agency, the Sunday Times and Spain's El Mundo.
Together, about 80 journalists from 15 media outlets looked at the information provided.