Anthony Martial: Man Utd boss Jose Mourinho wants striker to stay at Old Trafford
Last updated on .From the section Man Utd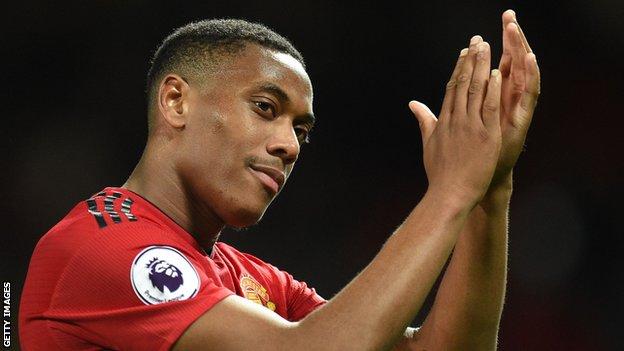 Manchester United manager Jose Mourinho says now that Anthony Martial is "much closer to being a top player" that he "would like him to stay" at the club.
His contract runs out next summer and United have the option to extend it by another season.
"I know the club wants him very much to stay, so hopefully he is going to stay," said Mourinho.
Martial, who scored 11 goals in 45 appearances last season, missed out on a place in France's 2018 World Cup-winning squad.
He has four goals in his last four games for United, having started each match.
"One thing is that he's a talented player that everybody knows he is - since he was in Monaco, everybody knows he was a talented player," added Mourinho.
"Another thing is, a talented player with consistency and understanding of what a football match is in the globality.
"So, when you reach that level or when you are almost reaching that level, it's when you become a player - what I say, a top player.
"Because one thing is top talent, another is top player.
"So, when he is now much closer to being a top player, obviously I would like him to stay."