Esperance coach criticises high level of security in Egypt
By Souhail Khmira, Tunisia & Tarek Talaat, Egypt
For BBC Sport
Last updated on .From the section African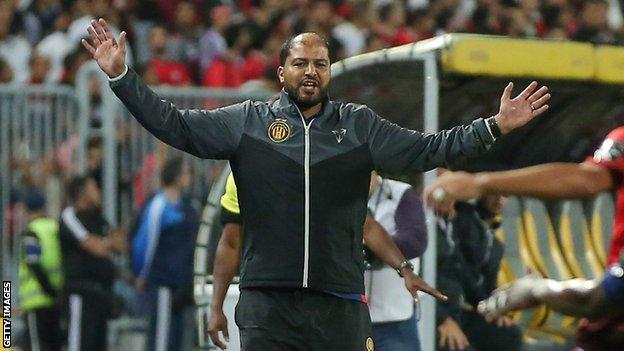 The coach of Tunisian side Esperance has criticised the level of security in Alexandria on Friday night as his players lost 3-1 away to Al Ahly in the first leg of this year's African Champions League final in Egypt.
In a controversial match, VAR (Video Assistant Referee) played a significant role with three penalties awarded - two converted by Al Ahly and one by Esperance.
It was the first time the technology was used in an African Champions League final.
Moain Chaabani, Esperance's head coach, was unhappy with events ahead of kick-off at the Borg el Arab Stadium.
"I have never seen anything like this" Chaabani told Tunisian Media.
"We were taken to a different door, surrounded by Al Ahly fans. Police boarded our bus, searched our bags and the players.
"This has never happened before. I do not recall a team coming to Tunisia and getting searched by the police.
"This is the Caf Champions League final," said Chaabani who also claimed that their bus was "held for 25 minutes and every minute is crucial for us."
"Players didn't have time to massage or properly warm up for the game," he added.
His Esperance side will have to face the second leg at home in Rades without the services of veteran defender Chamseddine Dhaouedi and midfielder Franck Kom.
Both players were booked on Friday, earning them three yellow cards each in this competition and a disqualification from the next match.
"Chamseddine Dhaouedi was booked for no reason while Al Ahly players got away with it.
"The same thing with Franck Kom. It's as if it was clear that they were targeted from the get go," said Chaabani.
"As a coach, I have to get my players focused on what happens on the field. I have to keep it together and though it's true that I'm angry, I can't show it to my players. We can recover from 3-1," the Esperance coach added.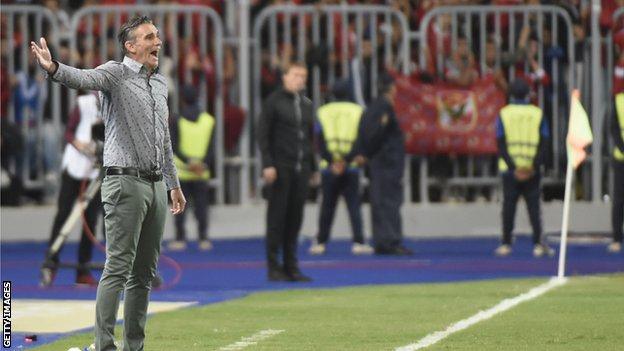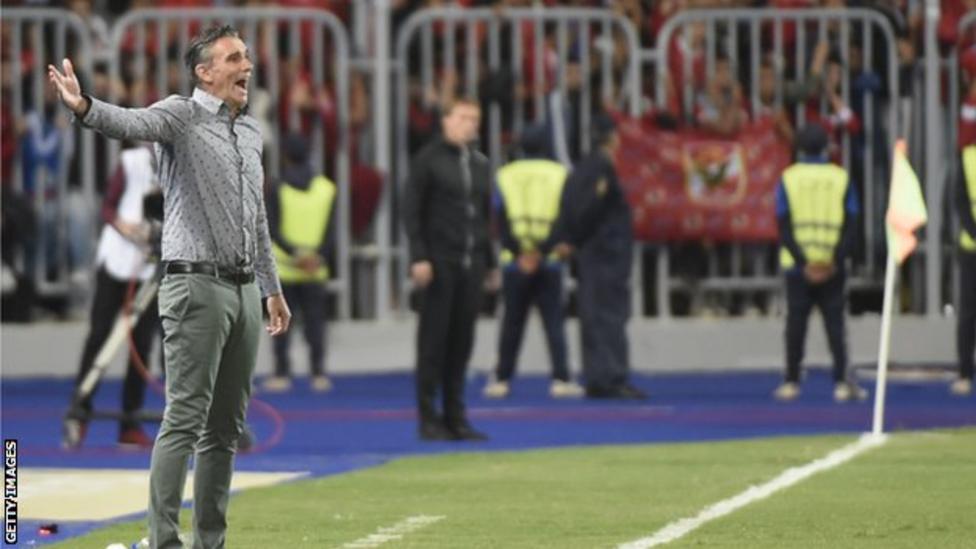 Ahly will also be missing a crucial player for the second leg of the final on Friday 9 November, with veteran Ahmed Fathy out. He left the pitch in Alexandria with a thigh muscle injury.
His experience will be a loss for Ahly coach Patrice Carteron who has warned his players that despite their lead, the final is far from over.
"We played a very good match against Esperance, and deserved to win the game.
"We have another match in Tunisia and we have no room for any mistakes, we will fight to win the title there, we will prepare well for Esperance, they are a very good side and we respect them well, we have many players who have enough experience to deal with this kind of match."
Whilst Esperance were unhappy with the high level of security in Alexandria, Carteron says he welcomes an increase in protection ahead of the second leg of the final in Rades.
It follows the clashes between police and supporters during the Champions League semi-final at Esperance when they beat Angola's Primeiro de Agosto 4-2 for a 4-3 aggregate win.
"My team wants extra security in Tunisia," said Carteron.
"There were many injuries after the riots at the Esperance match against Primeiro de Agosto, and all of us watched that," Carteron added.