Daniel Sturridge: Liverpool striker charged with breaching betting rules
Last updated on .From the section Liverpool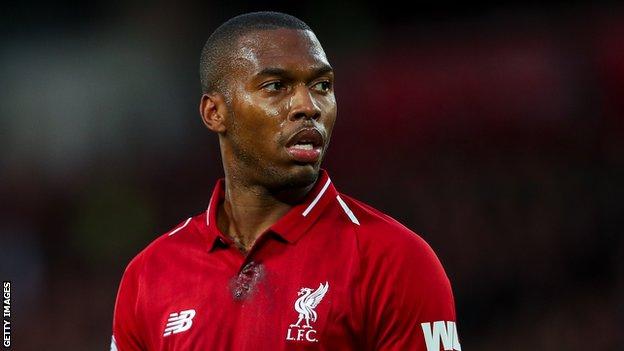 Liverpool's Daniel Sturridge has been charged by the Football Association with misconduct for alleged breaches of its betting rules in January this year.
It is alleged he breached one rule relating to betting on football, and one which covers providing information relating to football which has been "obtained by virtue of his position" and "is not publicly available".
A Liverpool spokesman said Sturridge, 29, had co-operated fully "throughout this process" and "stated categorically that he has never gambled on football".
The England international has been given until 18:00 GMT on Tuesday, 20 November to respond to the charge.
The Liverpool spokesman added: "As with any issue of this nature, we will allow the process to be concluded in its entirety before making any further comment."
Sturridge, who joined Liverpool from Chelsea in 2013, spent the second half of last season at West Brom after moving on loan on 29 January.
He has won 26 caps for England, the last of which came against Lithuania in October 2017.
An FA statement said the charge against him was "specifically in relation to Rule E8(1)(a)(ii) and Rule E8(1)(b)" which are:
Rule E8(1)(a) - a participant shall not bet, either directly or indirectly, or instruct, permit, cause or enable any person to bet on - (i) the result, progress, conduct or any other aspect of, or occurrence in or in connection with, a football match or competition; or (ii) any other matter concerning or related to football anywhere in the world, including, for example and without limitation, the transfer of players, employment of managers, team selection or disciplinary matters.

Rule E8(1)(b) - where a participant provides to any other person any information relating to football which the participant has obtained by virtue of his or her position within the game and which is not publicly available at that time, the participant shall be in breach of this Rule where any of that information is used by that other person for, or in relation to, betting.
Analysis
BBC Sport's Simon Stone
There has been no confirmation of what precisely Daniel Sturridge is alleged to have done.
However, in stating the offence took place in January this year, the Football Association appears to have provided a major clue.
January was when Sturridge sprang something of a surprise by joining West Brom on loan, when it had been expected he would move to Newcastle.
The FA has also pointed out that not only is it a breach for players to gamble on anything to do with football themselves, it also breaks the rules if they pass on 'insider information' to third parties.
Punishments are quite wide ranging.
Joey Barton was banned for 18 months in 2017 after he was found guilty of placing 1,260 bets over a 10-year period. Former Manchester City defender Martin Demichelis was fined £22,000 in May 2016 for gambling on 29 matches.
The additional issue for Sturridge, who has made 12 appearances for Liverpool this season, is that his contract expires at the end of the season and there has been no word from the Reds about whether he is likely to get another.