Evans praise for Greenisland club's NI production line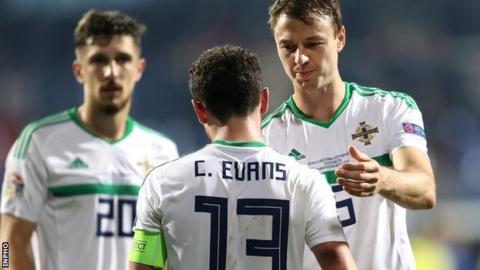 The inclusion of Michael Smith in the Northern Ireland team for the recent friendly against the Republic of Ireland may have raised a few eyebrows - but it was hugely significant for one greater Belfast boys' club.
The Hearts defender took his place in a back four that included Jonny Evans and Craig Cathcart. And, with Corry Evans in midfield, it meant there were four players in Michael O'Neill's team who had come through Greenisland Football Club.
Quite a feat for a club that wasn't founded until after all four of the internationals were born.
Greenisland's profile has risen in recent years as its alumni have gained international honours, but the Dublin friendly was the first time they have had as many as four old boys in the Northern Ireland starting line-up.
A launching pad for Jonny Evans
And Leicester City defender Jonny Evans, who played for Carnmoney Colts and Lisburn Youth before joining Greenisland, is quick to recognise the role they played in his development.
"My career at Greenisland was a really exciting time for me as it was my final boys' club before making the move across the water," said Evans, who played 131 matches for Manchester United after joining them from Greenisland.
"Having watched my brother play there and my dad coach there, it was clear that it was a club that had progressed tremendously season by season. For me, it was the next natural step for me as a young player.
"It was a great environment for any young player to come in to and be able to express themselves as they try to improve.
"I had a great coach in Jeff Montgomery who is part of the travelling Green and White Army. I would still see him at Northern Ireland away matches.
"I think the love of the game and passion for wanting to coach young players in the right way is a big reason as to why many players have gone on to progress further in their careers, and go on to gain professional contracts at clubs."
Evans video message inspires Super Cup success
The first seeds of the idea for the formation of the club were sown 23 years ago. It was during a late-night conversation following a Milk Cup match between a group of men from the Greenisland area who regularly attended the international youth tournament .
There was an added sense of pride in July, therefore, when Greenisland lifted the Under-13 trophy at the tournament, now called the Super Cup NI.
It was the first year that there has been an Under-13 section at the competition, which regularly attracts some of the world's biggest clubs, including Manchester United, Liverpool, Celtic and Rangers.
Evans recorded a good luck video message which was played to the Greenisland squad ahead of the final.
"I was thrilled to see the Under-13s create history by winning the Super Cup NI," Evans added.
"The tournament has a huge reputation, not only in Northern Ireland, but throughout Europe.
"Having competed in the tournament a number of times in my teenage years, I know how much the boys will have enjoyed the experience of playing in such a prestigious event."
'Head and shoulders above everyone else'
The fond memories Evans has of the tutelage he received from Jeff Montgomery is reciprocated by his former coach.
"Jonny was head and shoulders above everyone else on the pitch," he remembers.
"He had the ability of a central midfielder but ultimately he would go on to be an outstanding centre-half.
"More importantly, he had the attitude to accompany the ability. That's a big factor in why he has gone on to have such a good career.
"I watch Jonny playing for Northern Ireland and it makes me very proud to have played a small part in his career progression."
So, what's the secret?
David Munn was one of the soon-to-be coaches involved in the late-night conversation at the Milk Cup about providing children from the Greenisland area with the opportunity to play football.
Twenty-three years on from founding club, he remembers its humble beginnings as he reflects on the progress it has made.
"We started one morning with 13 children and a football," he recalled.
"Today, there are over 300 players playing across 25 teams, headed up by over 60 coaches. That is quite a journey and something we could never have imagined back then.
"The success of the club owes a lot to the hard work and dedication of the coaches, who deserve a lot of credit."
As well as the four internationals who played against the Republic, Greenisland also have a host of former players currently playing in the top flight of Irish League football.
While hugely proud of this record, Munn is also quick to point to the role the club plays in the local community.
"We're not solely focused on elite player development," he explained.
"The club is very much embedded in the community and we are proud to be able to provide so many kids with a safe and enjoyable environment to play football in.
"That's hugely important and the club is putting structures in place to ensure it continues to develop in the future."
With work started on a new £600,000 3G pitch at Greenisland's base, the international production line could be set to continue for some time yet.