EFL TV deal: several Championship clubs unhappy with new Sky Sports contract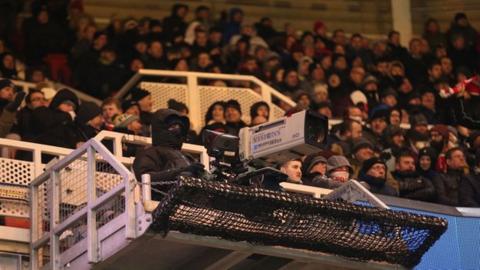 The Football League has agreed a record £595m five-year TV deal with Sky Sports.
It represents a 35% increase on the previous contract, which expires at the end of this season.
The EFL is certain it represents the best possible deal for its 72 member clubs, not just financially but in "maximising reach and exposure".
But the majority of Championship clubs are not happy. They didn't want the deal signing and have expressed "grave concern" that it has.
So, what is the problem?
What's the deal?
The new deal allows Sky Sports to show 138 EFL games, every play-off match, 15 games in the EFL Cup and the semi-finals and final of the EFL Trophy. For the final two seasons of the contract, Sky Sports can broadcast an additional 20 league games, which must be taken out of the weekend programme.
In addition, Sky Sports can show any game they are not showing live, apart from matches that kick-off on Saturday at 15:00, on their red button service to residential customers.
Sky can select any game for TV coverage but must show each Championship club at least twice at home. This increases to three times for the final two years of the contract.
The majority of Championship clubs believe this deal is materially different from the short form agreement they were sent last year.
Is everyone happy?
Absolutely not. The vast majority of Championship clubs were opposed to the deal.
One senior executive at a member club told the BBC that the EFL "have started a war".
Right until the last minute, the Championship clubs were urging the EFL to delay, in order to provide more time to assess the changes and to come up with an alternative. They are incredulous their voice was not heard.
On Tuesday, seven Championship clubs met to discuss the situation and released a statement that ended with an ominous warning: "There is a calm determination within Championship clubs to ensure the matter is not left here."
Given those clubs deliver the vast majority of fans and TV viewers to the EFL, it means some pretty powerful people are upset - and they have a number of complaints.
Why are they annoyed?
Firstly, they feel the deal is miniscule compared to the £4.55bn Sky and BT have agreed to pay to show 180 Premier League games per season from 2019-22. Two of its member clubs, Aston Villa and Leeds, were the 10th and 12th best supported clubs in England last season. Seven Championship clubs were in England's top-20 best average attendances last season. The Championship as a whole do not understand why the gap between the top two leagues is so big and fear the consequences of it getting larger in terms of financial competitiveness.
In addition, a number of clubs have said they were not told about the EFL decision to allow Sky to show 'non-TV' midweek games on their red button service. The EFL is equally forthright in its view that they were. The disparity suggests the communication was not delivered effectively.
Clubs recently relegated from the Premier League have noted the difference in how that organisation is run by Richard Scudamore and how the EFL operates under the control of its chief executive Shaun Harvey. Many clubs have complained at the lack of clarity in decision making by EFL executives. Clubs even found difficulty getting to see the actual TV document submitted by Sky ahead of Monday's decision.
Ultimately, as the nine-member EFL board - comprising EFL interim chairman Debbie Jevans, Harvey, EFL non-executive director Ian Watmore and representatives from Walsall, Scunthorpe and Carlisle in addition to those from the three Championship clubs - voted on the TV deal, it could be argued the other clubs did not need to see it.
In addition, the biggest clubs also feel their matches are shown too often, disadvantaging fans and teams - last season, for example, 19 of Leeds United's 46 league games were selected for Sky TV coverage. It has also been suggested that some centrally negotiated deals end up costing clubs money because of the number of tickets they have to give away as a consequence.
How this deal compares to other television contracts
The Championship was the third most-watched league in European football during the 2016-17 season, while the Premier League was top with total attendances of more than 13m and Germany's Bundesliga second.
However, the Championship's attendances of more than 11m ranked higher than Spain's La Liga, Italy's Serie A and France's Ligue 1.
But some of the clubs feel the EFL could have got more money for its television rights.
The Premier League's three-year deal with Sky and BT Sport, which begins in 2019, is worth £4.55bn, although the amount Amazon paid for one package of games has not been disclosed.
The top flight's previous deal, agreed in 2015 and running until 2019, was worth £5.14bn.
In June, Spain's La Liga sold its 2019-2022 domestic television rights for 980m euros (£871.41m) per season to Telefonica, an increase of 15% on the last three seasons.
The domestic television rights for Ligue 1 in France were sold in May in a record deal of 1.15bn euros (£1.02bn) for the rights from the 2020-2024 seasons. Spanish group Mediapro won the main "lots" auctioned by the League, with another "lot" acquired by BeIN Sports. By comparison, the prices for the period 2016-2020 amounted to 762m euros (£677.5m).
Germany's top two divisions sold their domestic media rights for 4.6bn euros (£3.6bn) in June 2016, almost double their previous deal.
The deal is in its second of four seasons and was an 85% increase on the amount raised by the same rights in 2013.
Five months ago, broadcaster Sky and sports media group Perform won the rights to screen top-flight Serie A football matches in Italy until 2021 for more than 973m euros (£893.1m) per season.
What happens now?
The Championship clubs are still to decide their next move.
Forming a breakaway league 'Premier League 2' has been rumoured but this is thought to be unlikely due to the timescales involved.
More likely, legal advice will be sought to see if any regulations have been broken in agreeing the contract.
In the meantime, attention may start to focus on Harvey, a former chief executive at Bradford and Leeds, who became EFL chief executive in 2013.
Harvey, 48, was behind the proposal to expand the EFL to four divisions of 20 teams, an idea that was scrapped when the FA refused to transform the FA Cup into a midweek competition.
In 2016, he caused controversy by inviting 16 Under-21 teams from the Premier League and Championship into the EFL Trophy as a way of helping young players gain greater experience in a competitive environment.