Darren Way: Yeovil Town 'in best place for five years', says manager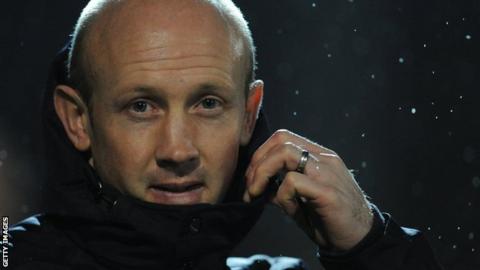 Yeovil Town boss Darren Way believes the club are in the best situation they have been for five years, after extending his contract with the club.
The League Two Glovers, who were in the Championship as recently as 2013-14, were slipping towards relegation to the fifth tier when Way took over in 2015.
He has overseen 19th, 20th and 19th-place finishes since then but feels the club's finances have been stabilised.
"We can see light at the end of the tunnel," Way, 39, told BBC Somerset.
"That has taken time. In the last five years the club is probably in it's best place now.
"We had relegation after relegation until I took over and almost stopped the rot. But we haven't fallen victim, unlike other clubs, through adversity.
"All the staff need to be proud of the fact we have not fallen out of the Football League."
Asked what he would say to any fans unhappy that he is staying, Way replied: "As a manager, you have got to be very resilient now to be able to put up with supporters' discontent.
"I can deal with that pressure. All you can do is ride the storm through difficult times."
Yeovil, who were knocked out of the FA Cup by non-league Stockport earlier this month, are 17th in League Two after five wins in their first 16 league games this season.