Republic of Ireland: O'Neill game plan 'not always clear' says Wolves' Doherty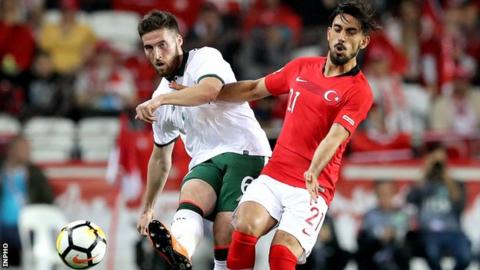 Wolves' Matt Doherty says a lack of clarity over tactics sometimes hindered Martin O'Neill's ability to get the best out of the Republic of Ireland.
O'Neill and his backroom team parted company with the Republic on Wednesday and the four-cap Doherty says the side's game plan wasn't always clear.
"Everyone thinks there wasn't a game plan every time. That's not entirely true," he told RTE 2FM's Game On.
"Sometimes there was. Sometimes it was less clear."
The 26-year-old full-back added: "Compared to the set-up I have at Wolves, you could class it as old-school.
"When you were away with Ireland, you didn't really have that much coaching. It was more of five-a-side, or 11-a-side game, and that would be it.
"The day before a game you would do a few set-pieces here and there and then go into the game. You are kind of thinking to yourself, 'what shape are we going to play?'
"You'd have a few players thinking 'we'll play this shape', or someone else thinking something else.
"You can't have that, especially at international football. People not really sure on what their role is the next day."
Keane's Republic role was 'not hands-on'
The Wolves defender also said that O'Neill's assistant Roy Keane had had a minimal role within the set-up.
"It wasn't necessarily a case where he [Keane] has taken the session and was doing shape [work]. It wasn't a case of that at all," Doherty added.
"I guess he was just a back-up to Martin. I wouldn't say he was very hands-on on the training pitch.
"Maybe if he was manager, he might have a bit more responsibility, or feel like he had more responsibility."
O'Neill reign did have 'great nights'
Despite impressive form for Wolves over the past 15 months, Doherty has so far accumulated only four caps, although a facial injury ruled him out of contention for the games against Northern Ireland and Denmark over the past week.
Doherty admitted O'Neill did deserve credit for bringing some "great nights to Irish football" which included victory over then world champions Germany in 2015 and the last-gasp win over Italy at Euro 2016.
"Some of the times he has made the hairs on the back of the neck stand up."
But Doherty added that he wasn't "really too surprised" by O'Neill's departure.
"You have to perform well to get the results. They haven't been coming.
"As players you want to be able to go out there and perform for your country and give people good things to write about. Nobody likes to be talked about badly.
"It has been a tough year. The performances haven't been good at all, not even when I was involved. It's come back to bite him in the end."