Cardiff City: Boss Neil Warnock targets three new signings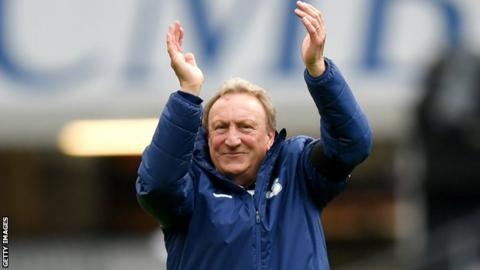 Cardiff City manager Neil Warnock wants to make at least three signings during the January transfer window.
The Bluebirds are in the Premier League relegation zone but boosted their hopes of survival by beating Brighton 2-1 with a late winner earlier this month.
Warnock is eager to add to his squad with loan signings, which he hopes to complete early in January.
"I think the main priorities are a full-back, central midfielder and a striker," he said.
"Definitely we are looking. We're only allowed one other loan from the Premier League because we've got Harry [Arter] until the end of the season.
"We have to prioritise which players we can get on loan and then we've got to look abroad to bring the other two or three in, which we are doing at the moment.
"I would think it makes sense if we can get players on loan, rather than spending massive money, until you know if you're in the Premier League or not.
"But I'm sure if the right striker came about and we've got the realistic money, I think Vincent [Tan, Cardiff's owner] would listen to us.
"We need to try and get a move on so we've got one or two in straight away in January, rather than the last minute again."
Cardiff's victory over Brighton on 10 November was only their second of the season, lifting them up to 18th in the table but only behind 16th-placed Crystal Palace on goal difference.
After a break for international football, the Bluebirds return to Premier League action on Saturday with a trip to Goodison Park to play Everton.
Having given his squad a few days off after the win against Brighton, Warnock also took advantage of the international break by going on holiday to New York with his wife Sharon.
"I like New York, it's a super place but four days is enough," he said.
"I like jazz and New York seems to be the place for jazz. I saw Frankie Valli's show.
"When you get to my age [Warnock turns 70 on 1 December] and you look at the news and the newspapers, everyone you know is passing away and there's all sorts of things going on in the world.
"So you have got to grasp everything while you can, hence it was probably the best four days of my life in New York with my wife.
"We had an absolutely amazing time. On the last day, we booked lunch at a place in the middle of Central Park called the Boat House.
"We got a horse and carriage from the hotel and, as we're driving through clippety-clop, the first snowflakes came down.
"So I turned to her and said: 'See darling, I've organised everything, even a few snowflakes for you.'
"So for me, that is life. I just love moments like that, and that's why I love my lads. Whatever happens with us, I know my team will give me everything.
"I think this is a unique season, when the fans have said 'right, we're going to give them everything'."