Bojan Krkic: Stoke forward on finding fulfilment in England after Barcelona
Last updated on .From the section European Football78
You can listen to the full interview with Bojan on the Football Daily podcast.
Once a Barcelona prodigy labelled the 'new Messi', capped by Spain, and a Champions League goalscorer at 17, Bojan Krkic is now 28 and playing in the Championship with Stoke City.
But the one-time wonderkid says he struggled with such high expectations when he was younger, and is happy with the career he has had and loving life in England's second tier.
After 850 goals for Barca's youth teams, Bojan was predicted a long and illustrious career at the Spanish giants. Instead he left at the age of 20 after losing his regular place, despite making 163 first-team appearances.
Since then he has since played for Roma, AC Milan, Ajax and Stoke - where he has now returned after loan spells with Mainz and Alaves.
He spoke to BBC Radio 5 live's Football Daily on living with the pressure at Barcelona, following his head and not his heart, what he enjoys about living in England, and more.
'I feel more respected here'
Bojan joined Stoke almost four and a half years ago, and although he has spent 18 months of that time abroad on loan, he says it is in England that he is proudest of his career.
"Here in England is the place I feel more respected outside the pitch," Bojan told BBC Sport. "I feel really proud of my career - more here in England than in Spain. There are different mentalities. Here the people respect you.
"I felt this is a nice place.
"I played in the semi-final of the Champions League, I played for big teams, and now I'm in the Championship. This emotionally is difficult but I'm enjoying it.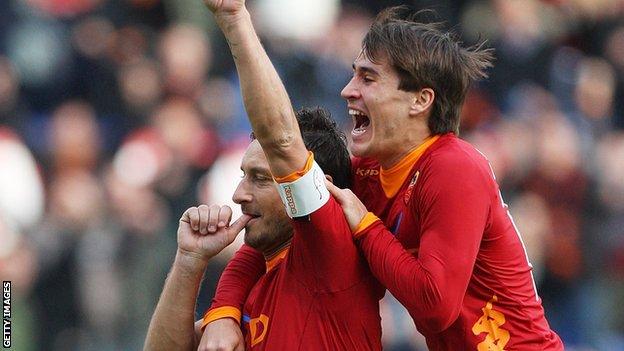 "In Spain and Italy, when you win you are the best and when you lose, you are very bad. In Italy, one game you win and score, you cannot go in the street because the people are so enthusiastic, and when you lose they go crazy. After the game they wait for you.
"When I was in Rome, we lost a game and the fans were waiting for us at the training ground. The next game was against Lazio, the game of the year. They said 'today you can lose but the next game there is no excuse not to win'. But it wasn't said that nicely.
"Many players don't care about that pressure. There are players who are more sensitive. Here in England, you don't feel this and can enjoy playing. It's different to play here than those places."
The pressure of being 'the new Messi'
Bojan, whose father was a Serbian footballer, was born and raised in Catalonia and was a Barca fan even before joining the club at the age of nine.
His prolific goalscoring for their youth teams led to him being compared with Lionel Messi, who was three years older than him and already considered one of the world's best players.
"You need to control the things you can do," said Bojan. "My first year I scored 10 goals in La Liga. Then people started saying 'yeah, the new Messi'.
"You can do nothing about this. In the end, I know my qualities and I know I'm not Messi. I'm Bojan. If people say 'this guy was not the new Messi', yeah I was not the new Messi."
And Bojan says the tag continued to follow him even after he left the club for Serie A.
"It's not easy," he continued. "Messi scores three goals every game. If you score one goal, you're not Messi. When I went to Rome and Milan, you go there not as Bojan, you go as a new star, a new Messi.
"So if you go there and play good, it's not enough. You need to be the best, you need to be the Messi. That's the thing that didn't help me.
"At the beginning it's difficult to understand but with experience you know what you can do."
'Head not heart' - leaving Barca at 20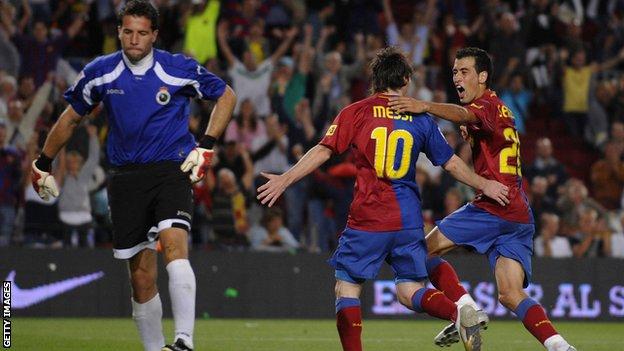 By the time he was 20, Bojan had scored 41 times in 163 appearances for Barcelona.
He won La Liga three times, the Champions League twice, a Copa del Rey, a Uefa Super Cup, two Spanish Super Cups and the Club World Cup.
Many of Barcelona's best youth-team products - Xavi, Andres Iniesta, Sergio Busquets, Carles Puyol and Messi - have decided to spend most or all of their career at the club, but Bojan left when he stopped being a first-team regular under Pep Guardiola, despite not turning 21 yet.
"When I was there, you never imagine playing with another team or living in another city," said Bojan.
"When I made the decision, I went with my head, not my heart. My heart said 'here is your home, it's your place'.
"You don't know that after Barcelona there is a really nice world. I opened the door to say 'thank you and I'm going to do my own way'.
"When you open and see the many things waiting for you, at the start you're scared. A different shirt, fans, culture and mentality. But when you make this decision, the first step, then you feel really proud."
'I couldn't speak to anyone' - language and loneliness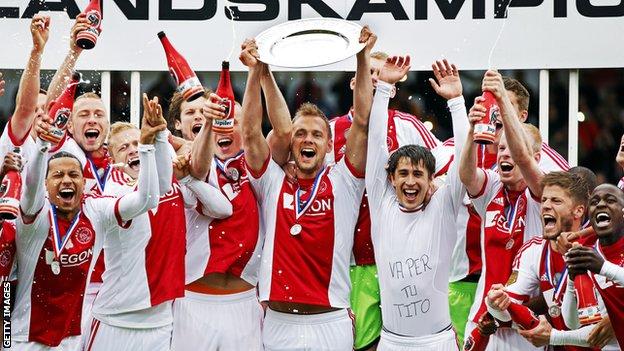 He spent one season with Roma, scoring seven times in 37 games, before a year on loan with Milan - where he only managed three goals.
Bojan technically rejoined Barca in 2013, because of a complicated deal with Roma, but almost immediately moved to Ajax on loan - and he admits he struggled in Italy and especially the Netherlands.
"It's difficult because you're travelling for one or two years, it's not enough time to know the city and new people," he said. "I was living in all these places alone. When you live alone in your home in Barcelona, you know if you're bored, you can call your friend to meet for a coffee.
"I remember Holland was one of the difficult years for me. My English wasn't good and they spoke Dutch - I went there in training and didn't speak to anyone. They didn't have any Spanish [speaking] footballers, only Frank de Boer and he was the coach.
"I spoke with him sometimes. But during the day I went there for training to not speak to anyone and went home alone."
Bojan scored five goals in 32 games during the loan spell at Ajax, winning the Dutch title, before making a permanent move to Stoke.
'If you show you're down, everyone will eat you'
Bojan has spoken in depth about mental health issues in the past. He turned down a place in Spain's Euro 2008 squad, as an uncapped 17-year-old, because of anxiety - although the real reason was not made public until years later.
He said he could not let team-mates know his struggles. "When you are in the dressing room, you need to show you're strong," he told BBC Radio 5 live.
"If you show you're down, everyone will eat you. There are 25 players and only 11 play. You have to show you're strong and can manage everything.
"We are footballers. The club pay you and the fans love the club and want them to win. You need to play. But there are long days and years. Everyone has a personal life.
"They are difficult things to manage, to play in front of many people and play well. These are the things that make you stronger."
'I have Serbian blood' - denied a new international career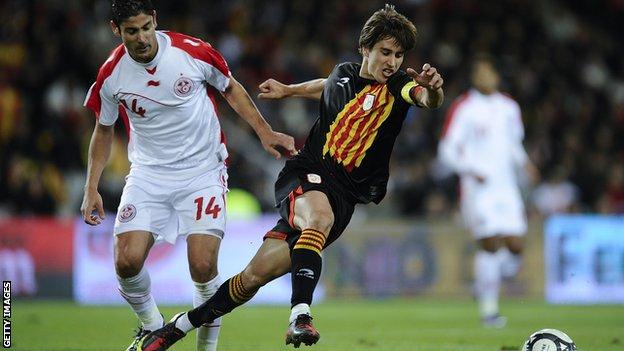 Bojan won one cap for Spain - a 25-minute cameo in a World Cup qualifier against Armenia in 2008 - although he would have won more had it not been for his anxiety issues.
Unfortunately for Bojan, Fifa rules mean that he is locked into Spain forever and cannot represent Serbia, his father's country, because his cap was in a competitive game. The world governing body rejected a request to change his nationality in 2016.
Bojan's father ended his career in the Spanish second division with Catalan side Mollerussa.
"My father got injured, my mum was a nurse so they met in the hospital while he was recovering," he says.
Bojan says he "has Serbian blood". "In the summers and some weeks, I went to Belgrade with my parents every year. Before I started playing in Barcelona, I was travelling every year. After that I'd have games every summer.
"When I was young I spoke Serbian perfectly and Catalan, and then started learning Spanish. I didn't practise Serbian and can't speak it really well now."
Bojan also played for Catalonia's national team, a side not recognised by Fifa or Uefa, under the late Netherlands and Barcelona legend Johan Cruyff.
"He was one of the nicest people I met in football. Before I went to Ajax I spoke to him and he spoke with Ajax and helped me.
"He was really important for me. He didn't shout at you 'you are talking to Johan Cruyff'. He was a really nice guy, with honest conversations. I felt human when I spoke to him."
Bojan's best Barca XI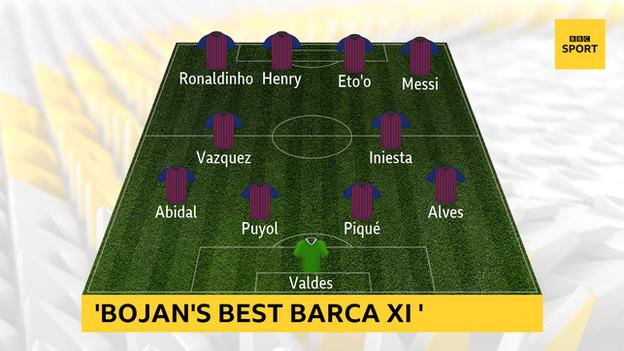 As part of the 5 live programme, Bojan picked an XI from the best team-mates he had played at Barcelona with - and there was one major surprise.
Midfielder Victor Vazquez, now 31 and at Toronto FC, managed only three senior appearances for the Nou Camp club before joining Club Brugge in 2011.
"Victor Vazquez and Fran Merida [now at Osasuna] were among the best I ever played with," he said. "They play but not in the level they should be.
"I remember when Vazquez came into training he was one of the best.
"Carles Puyol, when he started playing at Barcelona, he didn't have the quality to play in the first team and knew it. But with hard work and a strong mind he did what he did. I'm not saying [Vazquez and Merida] didn't have the mentality. But that's the difference.
"They had the quality, they had everything. But at the time they were really close, you have to be strong and maybe they weren't strong enough."