Darrell Clarke: Bristol Rovers manager receives chairman Steve Hamer's backing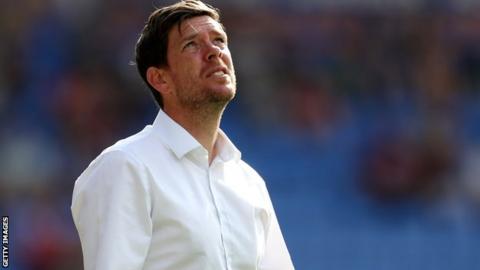 Bristol Rovers chairman Steve Hamer has backed manager Darrell Clarke to turn the League One club's form around after Wednesday's FA Cup loss to Barnet.
Rovers are 21st in the table, one point from safety, after winning just four of their 18 league games this season.
Owner Wael Al-Qadi apologised to fans on Twitter after their 2-1 FA Cup replay loss to non-league Barnet.
"Darrell thrives on pressure. His record stands alone," Hamer told BBC Radio Bristol on Thursday.
"You do not suddenly become a poor manager overnight. He has done great business for us so we are very happy with what he is doing.
"It is pretty obvious to everyone concerned that we have to improve our form. We don't need to have a formal conversation [with Darrell]".
Asked twice if he was backing Clarke, Hamer said "yes", while stressing that the board had not met to discuss Clarke's future.
Clarke, 40, led Rovers to consecutive promotions from the National League to League One in 2015 and 2016 respectively, before 10th and 13th-place finishes in the third tier over the past two terms.
Training ground costs have 'accelerated'
Meanwhile, Hamer revealed that the club have extended their agreement to train at their existing training base until April 2020, with their previous deal having been set to expire in 2019.
Plans to move to and build the club's proposed new training ground, to be known as The Colony, have been further delayed.
"It's frustrating but we bought it with good intent and it will be a training ground one day," Hamer added.
"But we've looked at what the cost of running the club is taking out of us and what we've said is that, when we're ready for it, we'll develop it.
"The costs of doing it have unfortunately accelerated way beyond what we initially thought the budget would be, but that's acceptable."