Liverpool throw-in coach Thomas Gronnemark extends contract with club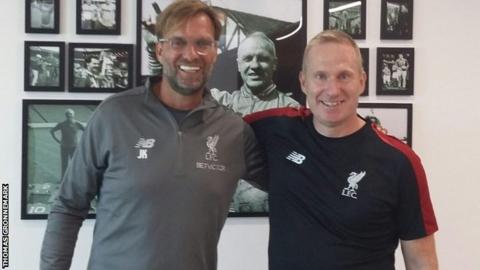 Liverpool's appointment of a throw-in coach was one of the most surprising signings of the summer.
Even manager Jurgen Klopp admitted he had never heard of the role before employing Thomas Gronnemark.
But the Dane has made such an impact at the club in a six-month 'probation' period, that his contract has been extended to 30 June 2019.
And that could also be good news for England.
Liverpool centre-back Joe Gomez helped set up Jesse Lingard's equaliser as England beat Croatia 2-1 on Sunday to reach the finals of the inaugural Uefa Nations League.
The 21-year-old has "greatly improved" his throw-ins under Gronnemark's tutelage, making them a "potentially dangerous dead ball situation."
"Gomez's throw-in against Croatia showed it is a dangerous weapon for Liverpool and England," Gronnemark told BBC Sport. "I think it won't be used very often, but the opponents have to think twice before they put the ball out of play."
Gronnemark, who holds the world record for the longest throw-in at 51.33m, added: "The extension documents Liverpool's satisfaction with my work and the fact that they recognise and acknowledge the results we've achieved with the players. I hope that our hard work will be rewarded with good results when the season comes to an end in May."
Speaking to BBC Sport in September, Gronnemark, the self proclaimed world's first throw-in specialist, said his job was the "weirdest in the world".
Aside from his work with Liverpool, Gronnemark also coaches at Danish top-flight clubs FC Midtjylland and AC Horsens, and in the German Bundesliga.