Liverpool's Sadio Mane: 'He has a Bentley at home but drives to the mosque in a not-so-fancy car'
Last updated on .From the section African
This week BBC Sport will be profiling the five players on the shortlist for BBC African Footballer of the Year, and first up is Liverpool and Senegal forward Sadio Mane.
After scoring the opening goal in Liverpool's 2-1 win at Leicester City at the start of September, Sadio Mane could have been forgiven for celebrating after the game.
In reality, the unassuming Senegalese forward, 26, was content to help out with cleaning the toilets at a mosque in Liverpool.
The image, which was widely shared on social media, was a striking contrast to the stereotypical image of 'pampered' Premier League footballers.
Mane is happy to be away from the limelight, according to the imam at Al Rahma Mosque in the Toxteth area of Liverpool.
Voting details
Vote closes on 2 December at 20:00 GMT.
The final results will be announced in Focus on Africa on World News and World Service Radio on 14 December, starting at 17.30 GMT.
If you are viewing this page on the BBC News app please click here to vote.
"Sadio requested that no video was sent out. He wanted to remain discreet and wasn't doing it for publicity," says Abu Usamah Al-Tahabi.
"He comes to the mosque often. At his house he has a Bentley - but he comes to us in a not-so-fancy car, so he is incognito.
"He's not a person looking for fanfare. There's no arrogance."
This humility is evident in a number of stories about Mane.
Before the Champions League final in May, he gifted Liverpool shirts to locals in his hometown of Bambali in Senegal.
"There are 2,000 in the village. I bought 300 Liverpool jerseys to send to the people in the village, so the fans can wear to watch the final," said Mane.
Bambali is where Mane watched Liverpool's famous comeback against AC Milan to win the 2005 Champions League final - at the age of 13. And his home is never far from his mind.
"Sadio comes from a poor community. He is the type of guy who will help. He has a lot of initiatives and has helped build a mosque in his home village," adds Al-Thabi.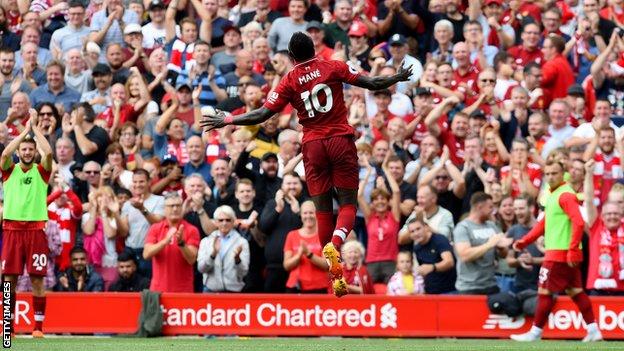 'He's very approachable and sort of a bit shy'
Mane's personality has also helped him to become a favourite with Liverpool supporters.
"Fans like him because he's humble. In Liverpool, the worst thing you can do is be too flash and too pleased with yourself. He's not like that at all," says John Gibbons from The Anfield Wrap podcast.
Gibbons says "everyone in Liverpool finds Mane really approachable" and explains how a chance meeting with a fan in a supermarket highlights his low-key character.
"He was shopping in an Asda in Hunts Cross wearing traditional dress when a fan holding a baby asks for a picture.
"Mane is then stood there holding the baby and smiling. It's the fact he's just in a normal supermarket. A lot of people who've met him said he's very approachable and sort of a bit shy."
On the pitch, Mane is also happy to step out of the limelight for the benefit of the team.
"When Liverpool signed him, he was wide right and was probably player of the season. Then we sign [Mohamed] Salah and Sadio just moved to the left," says Gibbons.
"He made no complaints and got on with it. He was asked to do more of a team role and played a bit deeper while Salah was the star."
Mane isn't a man who deals in complaints. In a recent game against Arsenal he had a goal incorrectly ruled out for offside.
When interviewed after the match, he refused to criticise the officials and even referred back to the opening day of the season - when his goal against West Ham was allowed to stand despite him having been in an offside position.
This selflessness is not a surprise to Mike Hughes from BBC Radio Merseyside Sport.
"After a match I try to get him to describe how big a part he's played, but he is always eager to play down his role and bump up everyone else in the team.
"That just shows the character of the man."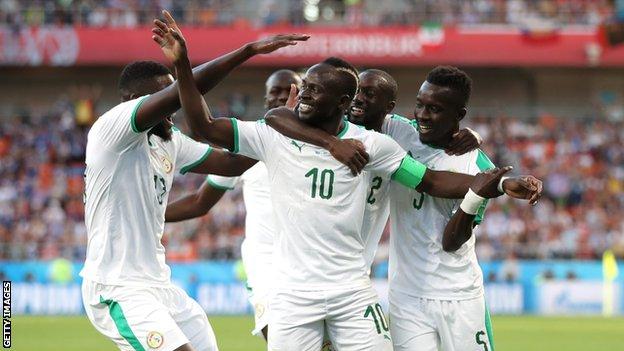 'One of my best days so far in football'
In a Liverpool team that continues to improve under manager Jurgen Klopp, Mane remains a standout performer.
He was a pivotal member of the side that reached the Champions League final, scoring 10 goals in the competition, including strikes in the knockout stages against Porto, Manchester City and Roma.
He also finished the Premier League season with 10 goals, playing a key role as part of the Reds' feared front three alongside Roberto Firmino and Salah.
Mane, who arrived at Anfield via Metz, Red Bull Salzburg and Southampton, then became the first Senegalese player to score a goal in the Champions League final - poking home from Dejan Lovren's header to equalise for Liverpool against Real Madrid in Kiev.
Despite his efforts, Real Madrid ran out 3-1 winners, providing Mane with bittersweet memories of the occasion.
"I scored in the Champions League final. I was very happy - but after, the result is more important," he said.
It didn't take long for Mane to overcome the disappointing result in Ukraine, as he headed to the World Cup in Russia with Senegal.
During his side's second group match against Japan in Ekaterinburg, Mane scored his first goal at a World Cup finals.
"One of my best days so far in football," was how Mane described the occasion.
It was also a moment of redemption on the international stage. In January 2017, Mane missed from the spot during a penalty shootout against Cameroon in the Africa Cup of Nations quarter-final.
Cameroon won with the next kick and an inconsolable Mane was helped off the pitch by his team-mates.
Mane, who has just signed a new long-term Liverpool deal, has also flourished in the Premier League this season, with six goals in the Reds' opening 13 games.
He wouldn't want to dwell on that statistic though. For him, team glory will always outweigh individual brilliance.