Man Utd fined again by Uefa after Juventus pitch invasion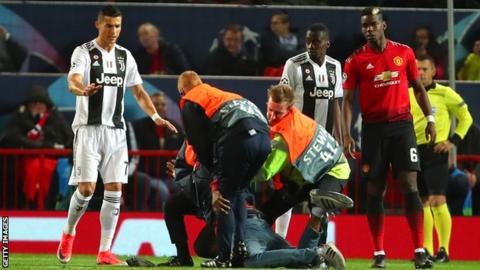 Manchester United have been fined 8,000 euros (£7,080) by Uefa after pitch invasions in last month's Champions League game against Juventus.
A succession of supporters tried to reach Juventus forward Cristiano Ronaldo during and after the match.
Ronaldo, who was returning to United for the second time since leaving in 2009, took a selfie with one of them.
Afterwards, United said they were reviewing their "pitchside security protocol".
It also emerged a pitch invader got into Old Trafford with two toy guns.
The man did not take the guns on to the pitch but it is understood they were later found in his backpack.
It is the second time United have been fined by Uefa this season.
They were fined 15,000 euros (£13,203) for the late kick-off of their match with Valencia at Old Trafford last month.