Northern Ireland pick up award for embracing Uefa Fair Play ethos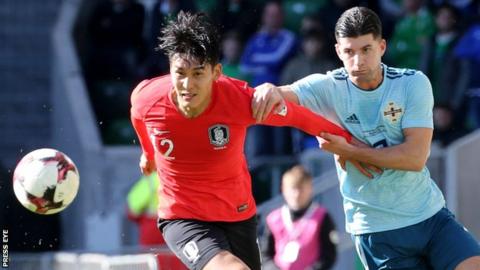 Northern Ireland teams' good behaviour on the European stage has been recognised by a Fair Play award from Europe's governing body Uefa.
Finland, Faroe Islands and Northern Ireland were the winners of the three categories in the final rankings of the 2017-18 Fair Play competition.
Finland took the award for overall fair play with NI picking up the prize for the best improvement in fair play.
NI moved up to fourth in the overall Fair Play rankings out of 44 countries.
Northern Ireland's position on the Uefa list was based on 39 games played by our men's and women's international teams, as well as men's and women's club sides and futsal clubs in Uefa competitions.
The award for behaviour of spectators was won by the Faroe Islands. Finland finished first in the spectator behaviour rankings with 8.954 points but as they had won the award for the best overall fair play score the spectator award instead went to the Faroe Islands, who finished second in the rankings with 8.818 points.
Northern Ireland's spectators were ranked at 16th out of 44 teams.
The winning associations in each of the three categories will receive €50,000 apiece to donate to amateur or professional clubs of their choice for fair play or respect-themed projects.
The 2017-18 Uefa Fair Play rankings are based on fair play results obtained from all Uefa competition matches played at both club and national team level between 1 July 2017 and 30 June 2018.