Real Madrid captain Sergio Ramos 'vehemently opposed' to doping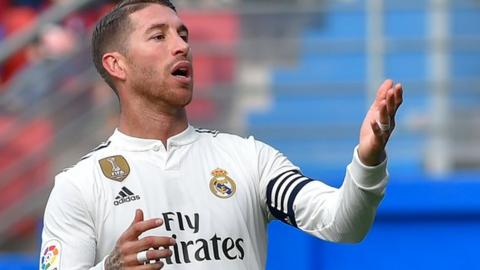 Real Madrid captain Sergio Ramos has strongly denied doping after a report that he breached the rules after the 2017 Champions League final in Cardiff.
The German news magazine Der Spiegel said the Spain defender tested positive for anti-inflammatory drug dexamethasone, which is only banned if testers are not informed of its use.
"I am vehemently opposed to doping. I have never participated, nor will I ever participate in, nor have I consented to, nor will I ever consent to, any form of doping," said Ramos.
The 32-year-old indicated he was considering legal action against anyone who "undermined his reputation" or "violated his rights."
Der Spiegel reports doping control officers were told Ramos had taken a different anti-inflammatory before the final.
Uefa accepted an apology from Ramos, who blamed a club doctor for the mix-up.
"Over the course of my long sporting career, I have submitted to, and passed satisfactorily, an infinite number of anti-doping tests," said Ramos.
The unnamed doctor, in a letter to Uefa seen by Der Spiegel, said he had accidentally written the name of a different drug on the doping report after the match as Ramos was being tested.
Testers were told Ramos had injections of betamethasone in his left knee and left shoulder, which is also banned by Wada, rather than dexamethasone.
Both drugs, which are similar anti-inflammatories, are permitted under World Anti-Doping Authority (Wada) rules if they are declared at the testing stage.
Der Spiegel said the doctor had noted down the wrong drug in the doping report following the game because of the "euphoria" felt from winning the title, and the fact Juan Carlos, the former King of Spain, and the country's prime minister had visited the doping control station to see Ramos.
Real Madrid beat Juventus 4-1 in the final and Ramos played the full 90 minutes.
"I received a standard medical treatment administered by the club's medical professionals, said Ramos in a statement.
"The matter was clarified and resolved formally and in writing between the organisations."