Ballymena United have received 'no offers' for transfer-listed striker McMurray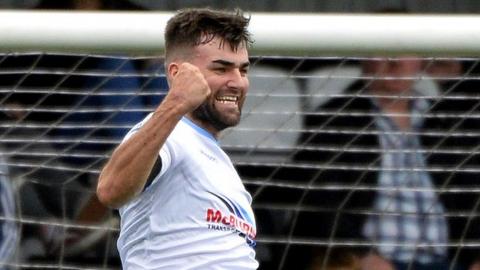 Ballymena United manager David Jeffrey has said they have not received any offers for transfer-listed striker Johnny McMurray.
The Sky Blues boss issued a statement on Friday amid speculation about the 24-year-old former Warrenpoint Town forward's future.
The club announced on Sunday that McMurray was being made available to other teams.
He has been linked with Linfield and Championship leaders Larne.
"We were clear at the start that in order to be fair to the club, and to Jonathan, his transfer listing would be conducted in openness and full transparency," Jeffrey said.
"We are more than aware that Jonathan's talent is widely known across the league and farther afield, and we are also aware of the continuing rumours circulating at this time in relation to his playing future.
"I can clarify that to date no current offers, verbal or otherwise have been received for Jonathan, and can only say that the club are still open to receiving formal notification of interest in him."
McMurray joined the Sky Blues from Cliftonville in July 2016 after his loan spell with Warrenpoint. He struggled with injury at the start of this season and has scored twice in 10 league appearances.
Ballymena, who sit second in the Irish Premiership, are at home to league leaders Linfield on Saturday.