Quinton Fortune: Former Manchester United player backs Mourinho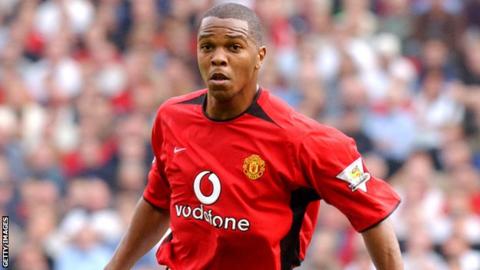 Former Manchester United player, Quinton Fortune, says he has full confidence in Jose Mourinho, despite United's slow start to the season.
The South African, speaking from Mauritius where he played in a 'Legends' tour match, said United's disappointing 0-0 draw at home to Crystal Palace on Saturday was understandable.
"It is not easy at the moment especially when we come back from international week, we always find it difficult," Fortune told BBC Sport.
"At the moment everyone is saying this and that about Manchester United; it's okay we take it but we did not lose.
"Yes, of course, we expected to win at home at Old Trafford but the team will get better as the season goes on.
"We are in November, I think it is better to speak at the end of the season as we have a good team, a good manager and still a long way to go," Fortune added.
The former South Africa international, a defensive midfielder who played in the 1998 and 2002 World Cups, said he also keeps an eye on the current Bafana Bafana squad and African football in general.
"It is improving as a lot of players are now playing in Europe which will improve the national team and obviously the local football backdrop," Fortune said.
The 41-year-old, who spent seven years at Manchester United, also thinks more African players could feature at Old Trafford in the future.
"Eric Bailly is here [at Manchester United] but I'm sure the club is looking for more as we need the best players not only from Africa.
"If he's got the ability, the quality, the right mentality and it fits in the Manchester United system then of course they will sign this player.
"If I see a player from Africa with these qualities, I would definitely recommend him to the club."
Fortune, who moved to Europe at the age of 14 to play football, had some advice for African players who want to play in the Premier League.
"It is important to find your way to Europe first. The Premier League is physical but if you have the technical ability, you are willing to work hard and make the sacrifice - anything is possible.
"Europe is good with La Liga, Bundesliga, Ligue 1 - but the Premier League is obviously well-known in the world and you need to be particularly strong."
Fortune enjoyed a win with his Manchester United Legends side in Mauritius on Sunday, a team which also included former defender Wes Brown.
They beat a Liverpool Legends team - including Ian Rush, Patrick Berger and Vladimir Smicer - 4-3 in the tournament on Sunday.