Borussia Monchengladbach can 'have the league' for 50m retweets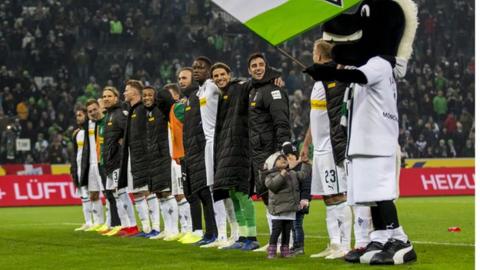 Twitter can be a bizarre place sometimes - a platform for opinions, banter, a classic 'spat', and sometimes a wager.
The official Twitter account for the Bundesliga has challenged Borussia Monchengladbach to the latter.
It has told the team they can have the league title if they gain 50 million retweets for one of their posts.
Gladbach are second in the German league anyway (four points behind Borussia Dortmund) and right in contention for their sixth title.
The club seem to think the bar has been set a little high, but have taken up the challenge anyway...
Rivals Borussia Dortmund had their say...
Taking matters into their own hands, Gladbach did 'a Wilkerson'...
Allow us to explain.
In 2017, American fast food chain Wendy's set 16-year-old Carter Wilkerson a target of 18 million retweets to receive a year's supply of chicken nuggets.
He tweeted: "Help me please. A man needs his nuggs."
After Wendy's caved despite the tweet only gaining 3.6 million retweets, Gladbach tried a similar tactic.
But it appears the human population are more willing to help out if fast food is involved...
If the past 24 hours are anything to go by, it's going to be easier to win the league by winning actual football matches than by hitting 50 million retweets.
Apart from anything else, it would be a pretty controversial way to decide a Bundesliga title.
Red Bull Leipzig have even threatened to unfollow the official Twitter account if it happens - the ultimate snub.
We are awaiting a response from Roma's official Twitter account - they are often the first with a sassy retort in these situations.