Leon Barnett: Northampton Town defender retires aged 32 because of heart condition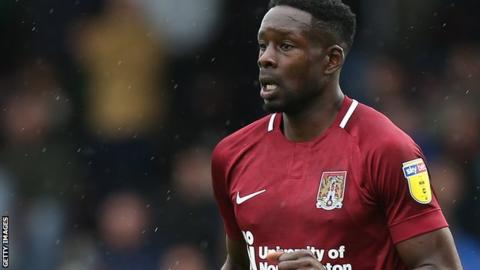 Northampton Town defender Leon Barnett says his heart rate reached almost 300 beats per minute during his final game before being forced to retire.
The former West Brom, Norwich and Wigan player, 32, was told a heart condition would make it "unsafe" for him to continue training and playing.
"It's a bit of a shock, but it could've been a lot worse," Barnett said.
"They told me if that was a normal person in a regular job they probably would've collapsed and fainted."
Barnett played more than 350 games across England's top four divisions during his career, the most recent a 0-0 draw against Bury on 2 October, and scored 16 goals.
He had a device inserted into his chest after reporting tiredness during a Carabao Cup tie in August, and had data analysed by a cardiologist in October after experiencing similar problems in the Cobblers' League Two game against Bury.
"They downloaded the data and found out that my heart rate was going just under 300 beats per minute, which is unbelievable," he told BBC Radio Northampton.
"They said because you play football and you're quite fit you managed to stay on your feet, so it's very fortunate that they've found it and handled it quite well."
Northampton say they will honour Barnett's contract - which runs until the end of the season - while also giving him coaching opportunities at the club.
"I'm obviously thankful. I wasn't even thinking about the contract to be fair, obviously it's a massive thing for them to still give me what I signed up for," Barnett said.
"They've been there the whole way through. I'm very thankful for everything they've done, so I need to repay them."