Republic of Ireland: Eligibility is players' decision says Stephen Kenny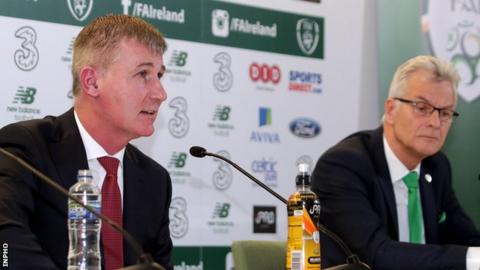 New Republic of Ireland Under-21 manager Stephen Kenny says players will have to make their own minds up when it comes to choosing whether to represent Northern Ireland or the Republic.
Players born in Northern Ireland are eligible to represent the Republic, even if they have played for NI at underage level.
"I think it is up to the individual player, isn't it?" The former Dundalk boss told the Irish News.
"It is a very personal decision."
Earlier this year NI manager Michael O'Neill expressed frustration at how the Football Association of Ireland approached the issue of eligibility.
"My concerns lie specifically with players aged 17-21 in the underage set-ups," said O'Neill in March.
"I've seen a heavy price paid by too many talented young players; players who have transferred their allegiance to a country that ultimately doesn't rate them, nor play them."
James McClean, Shane Duffy, Darron Gibson, Eunan O'Kane and Marc Wilson all played youth football for Northern Ireland before opting to represent the Republic.
Kenny, who managed Derry City between 2004 and 2006, will become the Republic's senior manager in August 2020.
In August former Northern Ireland Under-21 international Michael Duffy expressed his desire to play for the Republic although Kenny, for whom Duffy played under at Dundalk, said he had no part in that decision.
"Martin O'Neill contacted Michael Duffy in relation to changing allegiance.
"I never advised him one way or the other, I wasn't even party to that discussion," he added.