James McFadden urges Scotland to 'attack' Euro 2020 qualifying group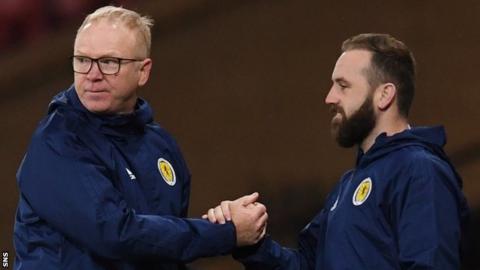 Finishing top of next year's European Championship qualifying group has "got to be the aim" for Scotland, says assistant coach James McFadden.
The Scots will find out on Sunday, 2 December, which sides they will face in the qualifiers to be played between March and November 2019.
Alex McLeish's side can also qualify via the Nations League play-offs, which will take place in March 2020.
"Hopefully, we don't need them," said McFadden on BBC Scotland's Sportsound.
"They're there as a safety net if all doesn't go to plan but we're going to try and qualify outright without having to use the play-offs.
"Whoever we get, we're going to try our best to go and win the group. It's got to be the aim. I'm not saying that we'll win the group but the aim's got to be we're going to go and win and try and qualify outright."
Scotland, who are in the third pot of seeds for Sunday's draw in Dublin, secured a home play-off semi-final and promotion to Nations League Group B by winning this month's matches against Albania and Israel. It was a second win over Albania in League C Group 1 but Israel beat Scotland in Haifa in October.
"We won three out of four, which is alright," McFadden said.
"We've won the group, we've got a play-off. It doesn't mean we can go into the [Euro 2020 qualifying] campaign and say, 'it's alright, we've got a play-off'.
"It means we take the confidence from the last two performances into the campaign upcoming. Let's attack the campaign with the safety net, not go in and cruise it. Let's attack it and see where we get."
My Euro 2020 qualifying group
Pick your preferred qualifying group for Scotland