Kilmarnock: Directors Bill White and John Kiltie step down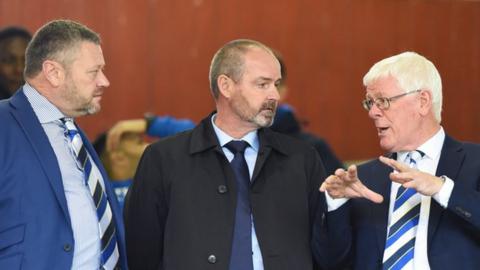 John Kiltie has become the second Kilmarnock director in a week to resign, telling BBC Scotland his "principles" mean he cannot continue.
Kiltie follows fellow board member Bill White who stepped down last week.
White departed after 15 months with the Ayrshire club, while Kiltie spent four years at Rugby Park.
"I've resigned for personal reasons, in particular because my principles don't allow me to continue in the post," Kiltie said.
Kilmarnock released a statement for supporters who, it stated, will "naturally be curious" by the departures.
"We wish to reiterate the sense of unity and positive vision we all share for our club's future," it said.
"As a board we are making strong progress in restructuring the commercial and administrative sides of the club."
The resignations leave just three directors- Billy Bowie, Phyllis McLeish and the supporters' representative Cathy Jamieson- on the Kilmarnock board.
Both Jamieson and McLeish responded on social media as fans raised their concerns.
"I don't think it appropriate for me to comment on anyone's personal reasons for resigning," McLeish said. "Just wanted to let you all know that the three remaining directors remain positive about the future," she added.
While Jamieson expressed her regret at the resignations, stating: "I am sorry that Bill and John are no longer Directors but I have no doubt they will still be supporting Killie.
"There is no-one calling any shots- it's up to the current Directors to get on with the work and [fans group] 'TrustinKillie' will be part of that."
Kilmarnock currently sit fourth in the Premiership table, having secured a fifth place finish last season.